The Rating: 6.5 / 10
Poshmark Pro Tools is a veteran in the Poshmark automation space. They have been around for a long time - about 5 years, which makes it perhaps one of the oldest automation tools out there. When using the product, this age showed. The product feels dated and the documentation references prior versions of the app that look completely different from the current version. The product has a steeper learning curve than most Poshmark bots out there due to its complicated interface.
That said, the product does work as expected. It shares items from your closet correctly, as well as sharing items to Posh Parties. The automatic following functionality also works as expected. It accomplishes the job.
If you prefer doing all of your closet sharing on a Windows desktop computer, then Poshmark Pro Tools isn't a bad choice. If you want the ability to share your closet with mobile, or Mac, then you should consider another option, like my current top recommendation ClosetPilot. You can read my ClosetPilot review here.
If you are interested in my full article where I recommend which Poshmark bot to use (based on your Poshmark usage and specific needs), you can read my article on the best Poshmark bot.
Background and Getting Started
Claiming to be number one for best Poshmark bot, Poshmark Pro Tools promises your closet will sell itself. I was looking forward to trying Pro Tools given how long they have been around - the product has a lot of features, and I hoped that it would allow me to automate the most repetitive tasks I have when managing my Poshmark inventory: self sharing, community sharing, and following. Pro Tools has been in business for five years, with over 2000 clients. But is it worth the money?
If you decide to use Pro Tools, you can try a 3-day free trial without putting in your credit card information. The download and installation are simple, and the download instructions are pretty basic. This is easy to install and set up without having a lot of software experience.
However, I must mention here that Poshmark Pro Tools is only available as a Windows desktop application. It does not work with Mac, so this is a downside for many Poshmark sellers.
When you click on the free trial, you will put in your name and email information, and then you're prompted to download the software. Allow your computer to install the software, and don't worry if your computer gives you a prompt that it might not safe to download. Windows especially will give you warnings when you download apps that are not a part of their app store. The software is safe to use and does not contain malicious files.
Once you download the app, you will be sent your license registration key and a link for browser log-in, but there is also a browser log-in in the app.
When you open the app, this is your first screen: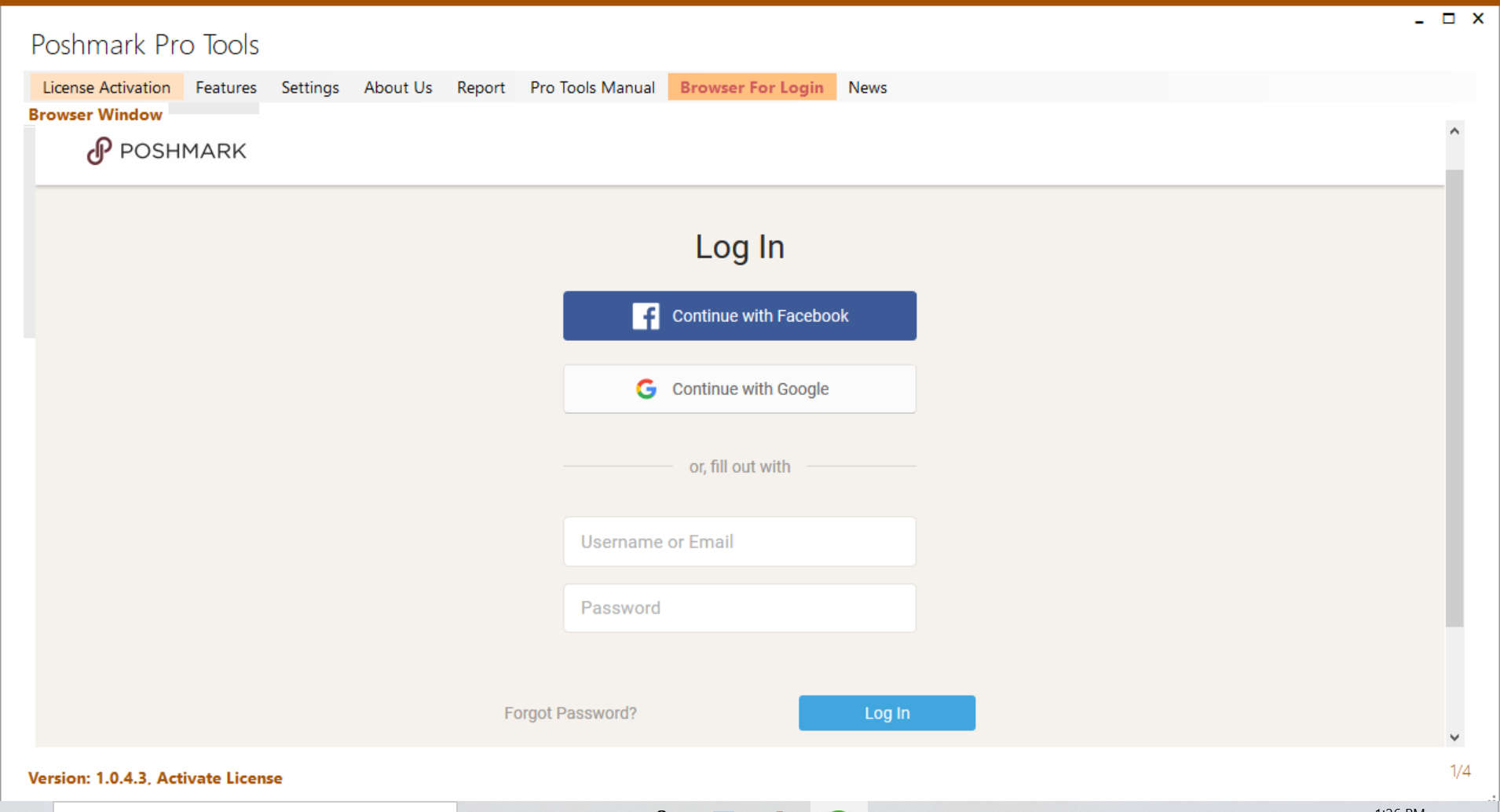 For the free trial or purchased software, you will be emailed a license registration code. In the app, you will click on the upper left-hand corner where it says License Registration to put in your code.
You will then be prompted to log in to your Poshmark account in the app using your email, Google, or Facebook.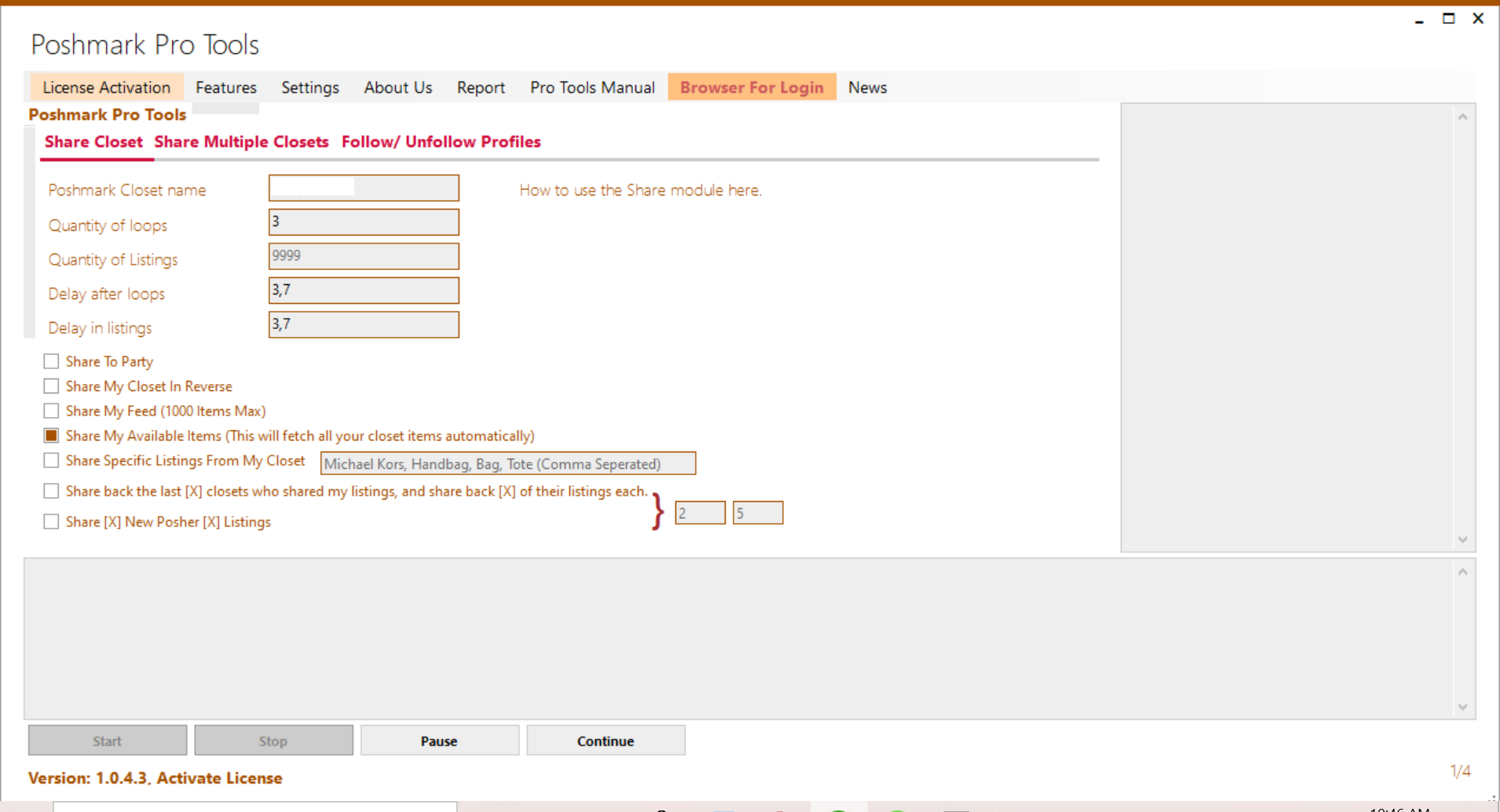 Once you login to Poshmark, the app will then integrate your Poshmark account into your Pro Tools. It will then look like this: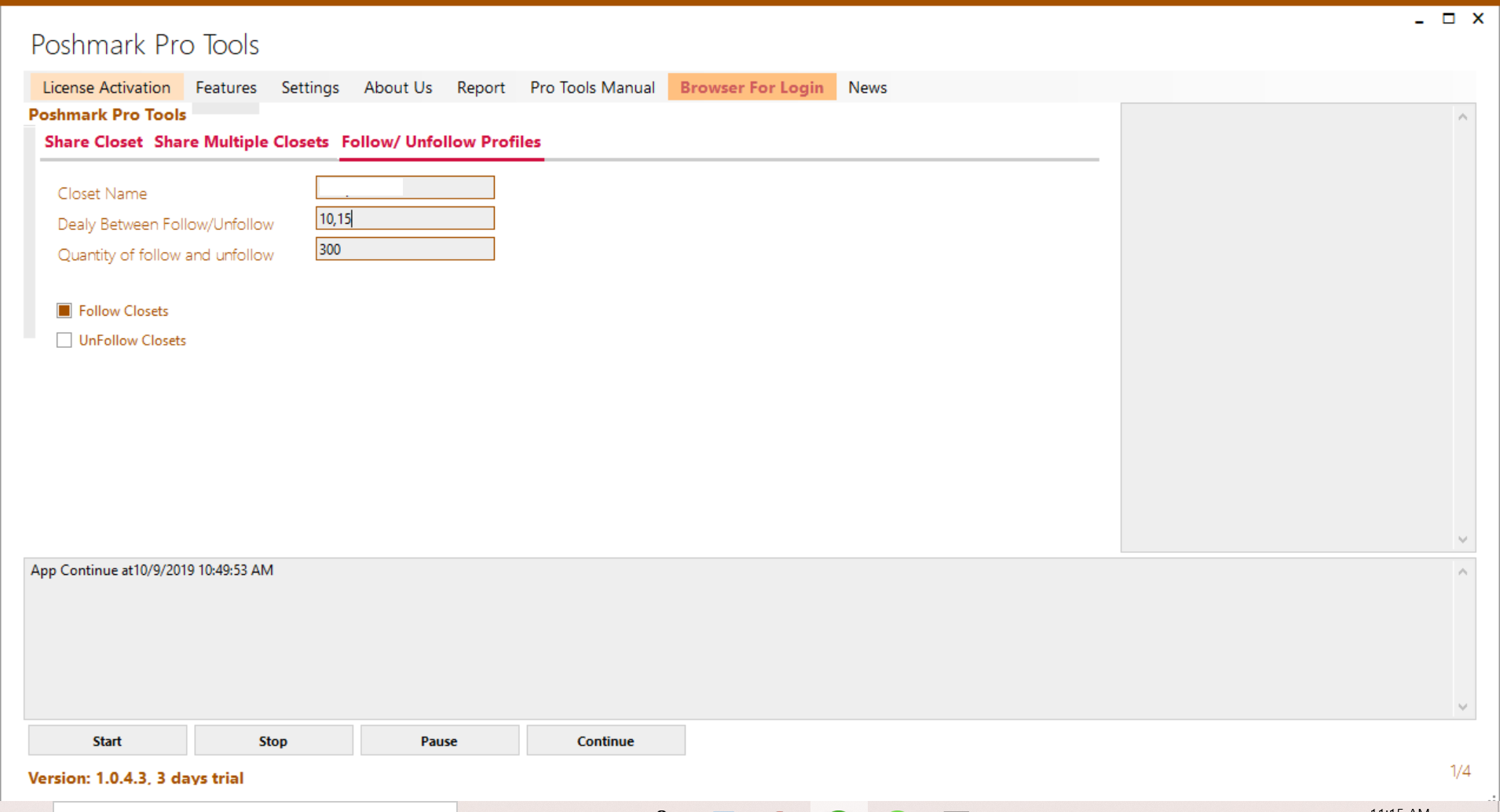 Once I logged into my Poshmark account, the app refreshed and my account popped right up. This means you don't have to open Poshmark through a browser, just use the app.
[If you're interested in why using a Poshmark bot can help your reselling business, read this article of the top tips for selling on poshmark]
Shares and Follows
After getting your account linked to the app, it's time to dig into the meat of the setup process. The manual has detailed pictures to describe the different features: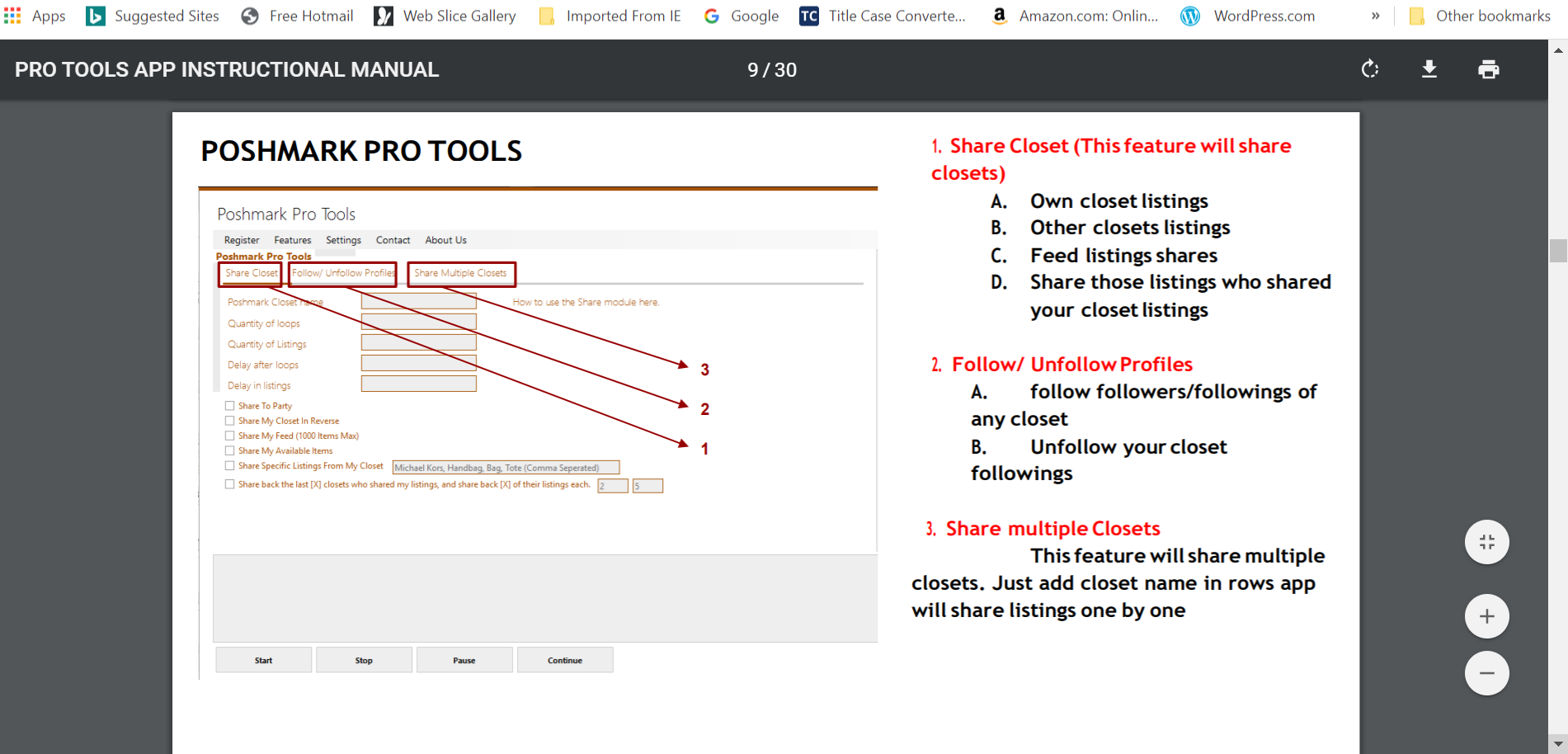 While these are described pretty well, I begin to have a problem here, where the manual is supposed to start helping you set up your closet: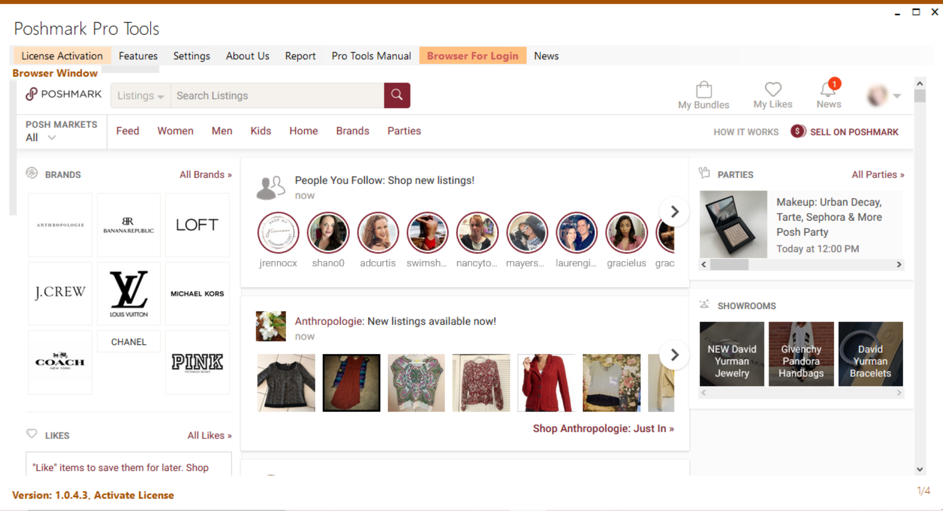 If you read carefully, this reads as if someone whose English is not their first language wrote it. While there is no issue having non-native English speakers write your content, an English-speaking editor should probably proof-read it, because otherwise, you end up with very confusing "instructions" that are hard to follow and sound unprofessional. Looking at this page, I was confused–am I setting up to share my closet or only other people's closets? The wording is unclear.
So the first step I took was to click on Features, then Pro Tools. The first module to set up is the share module. Just reading through the instructions did not help me, because the wording is confusing. For the sharing loops, it says "in this box, how many times the listings you want to share." My advice is to set the manual aside at this point and instead click on the How To Use the Share Module link. This is right beside the box that says Poshmark Closet Name.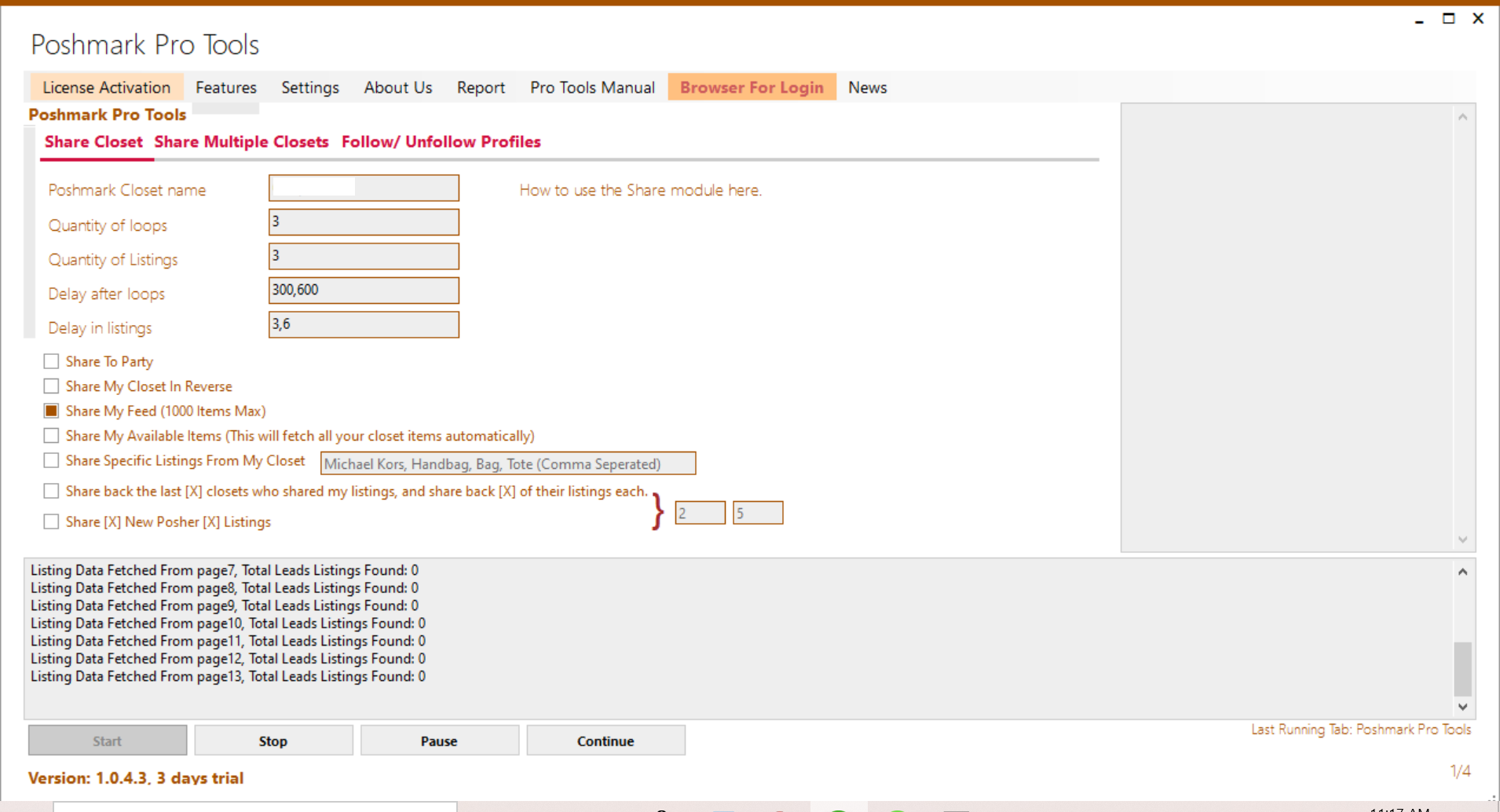 However, as a visual learner I have an issue with the fact that the link provided shows a totally different interface from the one we're using: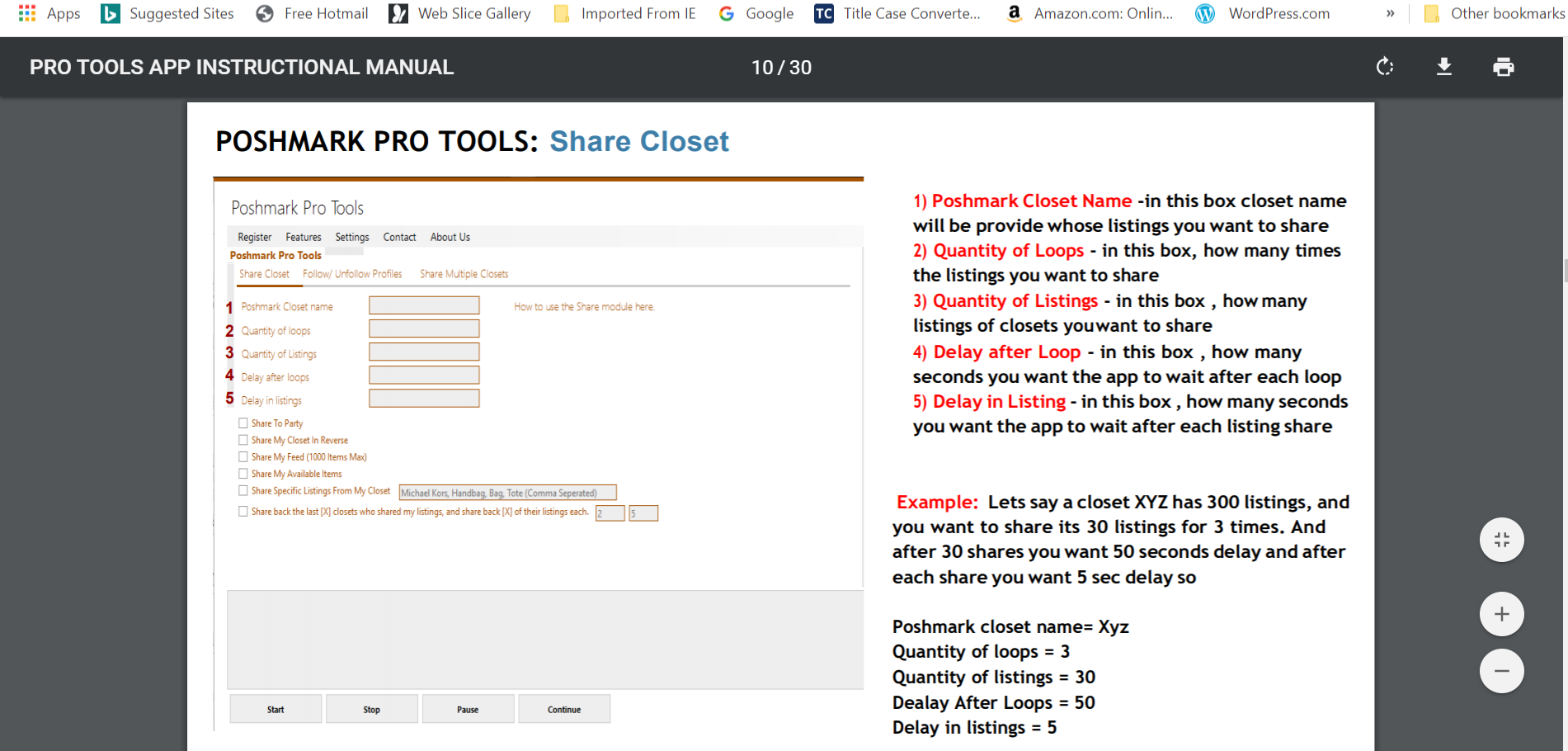 For instance, when the instructor in the video clicks on Share My Feed, another set of boxes pops up to set the loops and delays for sharing, but the new interface does not have this option. However, it does explain each section better than the written instructions which are rife with misspellings and syntax errors.
Using the video it was pretty simple to figure out how to set up your delays and give tips on how many seconds to use to make it more humanlike. Once I set up my shares, I went to Follow/Unfollow, which is where you set up how many closets you want to follow, and how many seconds of delay you want between each.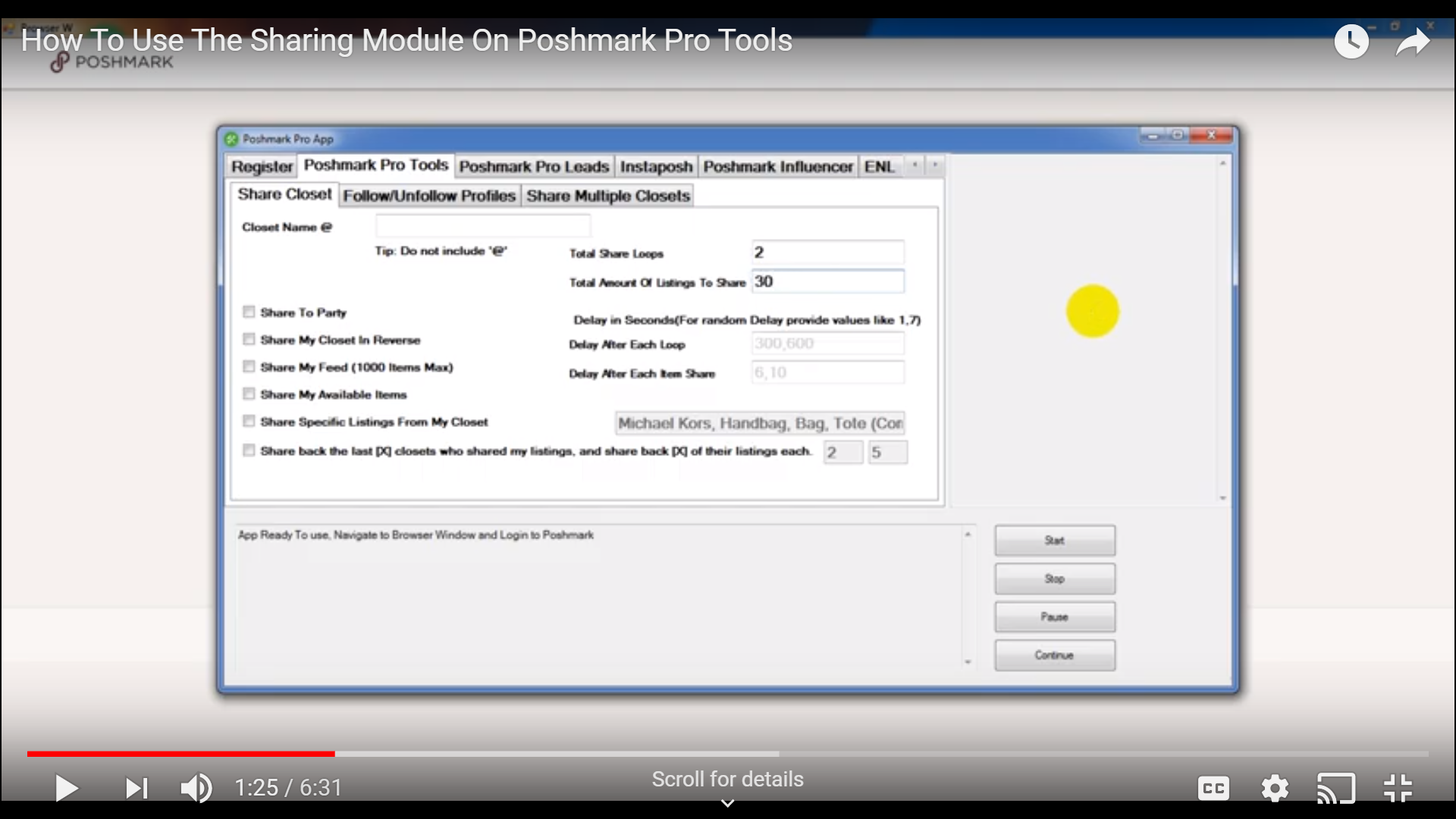 The default delay was 3 and 6 seconds, which I changed to 10 and 15. The number of closets to follow was set at 300, so I kept it at that number.
Then…the magic moment…I hit start! Once you hit start, the data Pro Tools are fetching will begin running at the bottom of the screen. I did my test using a brand new closet, so I don't have many listings or leads yet, so your numbers will probably look different.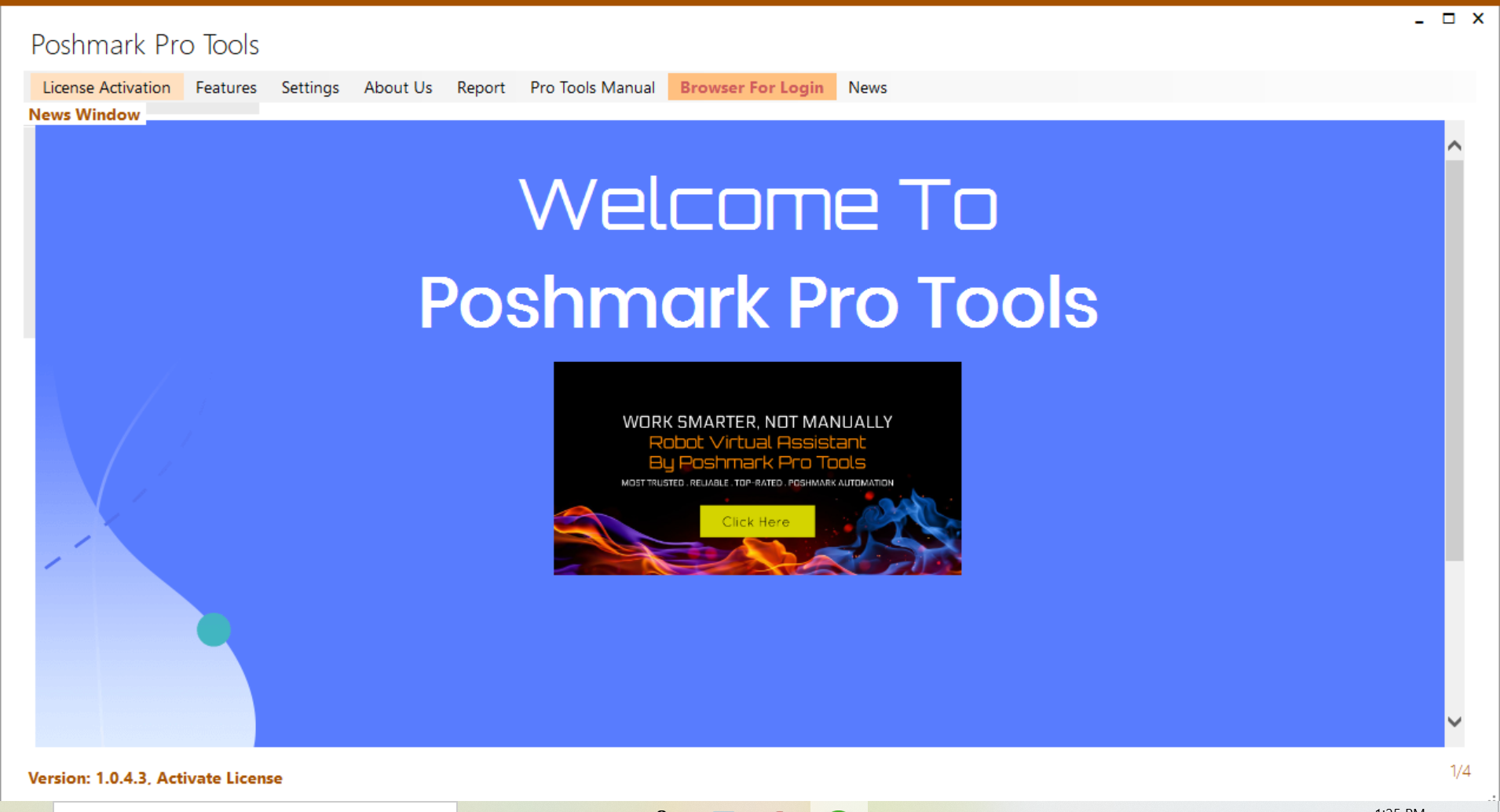 Within a few seconds, it was done "fetching" and everything was completed.
Since my closet was just set up the day before, I did have followers–128–but I had not started following anyone yet. After a few seconds, I had 142 closets that I was following. Doing that manually would take forever, so not bad to get almost 150 followers in a few seconds.
Usability
First impressions are this is a clumsy, bulky application with a dated interface. The text and images within the app look very blurry, and the instruction manual is nearly impossible to understand with its grammar and syntax errors. The instructional video for closet shares helps, but it only explains shares and no other features in the app. Other features are confusing without enough explanation (or the instructions themselves are confusing). For someone who is new to automation software, it seems overwhelming at first to use. With so many features, yet so little clear, concise instructions for use, this is not the best app for beginners.
Functionality
There is no doubt that this app is packed with features; however, learning to use each function is extremely time-consuming, especially with the quality of the instructions. The Influencer feature, which has no explanation for use, does provide a link to learn how to use it–but when I clicked on the link, it did not work. After many tries, restarting my computer, etc., the link still did not work. If you are relying solely on Pro Tools for instruction, you are sorely out of luck. You will more than likely have to go outside of the app to find more information, which defeats the purpose of in-app links.
While it is rather quick to share your closet and other listings, the data feed at the bottom of the screen is confusing at times, so you're left wondering exactly what the app is doing for you. Also, there were times I would go to start another sharing loop, and it would not start, as the start button was grayed out for unknown reasons. After running the share feature five different times, I did not receive any more followers than I had the day before.
As far as functionality goes, this is not a beginner-friendly app. Even seasoned users may find this app frustrating and time-consuming. A better instruction manual and more in-app links to instructional YouTube videos would greatly improve this application and would appeal to more learning modalities.
[If you want some easy-to-apply tricks for how to sell like a pro on Poshmark, check out my article on Poshmark tips. It explains how I grew my Reseller business from zero to $1,700/mo in 4 months]
Compatibility
One major drawback of Pro Tools is it not compatible with Mac, which means at least half (if not more) of Poshmark sellers will not be able to use this software. Pro Tools does offer tips on how to use the software on a Mac, but it is not optimized for the Mac OS and requires the use of a VSP, or Virtual Private Server, which comes at an additional cost. Because the software was optimized for Windows, there is no guarantee that the bot would work using this method (which is also time-consuming and for experienced tech-savvy Poshers). This app is also not compatible with mobile, which is also very inconvenient for sellers on the go, who would like to check in on their closet or start a new loop of shares if they're away from their PC. Although you can find videos on YouTube (not authorized by Pro Tools) to run the bot from your phone, it still requires a Windows-based PC and a VSN account (Voltage SecureMail Network), which is an additional $65 per license.
The Bottom Line
Although Pro Tools claims to be the best Poshmark bot on the market, I found it to be difficult to use and time-consuming. The instructional manual seems very unprofessional with hard-to-read sentences and misspelled words. Although initially, I did get around 150 followers after running the bot initially, my followers did not increase after two days of running the bot. For the money, I do not agree with Pro Tools' claims that they are the best. There are more intuitive, easy-to-use, beginner-friendly Poshmark automation software programs out there, which will save you time, money, and increase your sales without being frustrating or difficult to learn.
After trying out the top products out there, I recommend ClosetPilot as the best Poshmark Bot.