The Rating: 9.5 / 10
ClosetPilot is a newer Poshmark automation software on the scene that automatically shares, follows / unfollows, and provides tools to help you organize your closet. When testing the product, all of the features were easy to use and worked as expected. It balanced good performance with reasonable cost. In addition, it offers a free tier that will be useful for Poshers with smaller closet.
After reviewing multiple Poshmark bots, ClosetPilot is my current favorite and is my current main Poshmark automation tool that I use to share my closet and follow users. It is my top pick for anyone who is looking for a Poshmark share bot.
The Basics
ClosetPilot offers a substantive list of features, including:
Sharing items to your followers, or to parties
Sharing items from any closet or feed
Following and unfollowing other Posh sellers, so you can gain more followers
Editing and Sharing
Organizing your closet
Automatically solving captchas for you (using the 2Captcha.com service)
Setting a daily share limit so you don't get soft banned on Poshmark
ClosetPilot is the only Posh bot that offers a free forever package along with a paid option: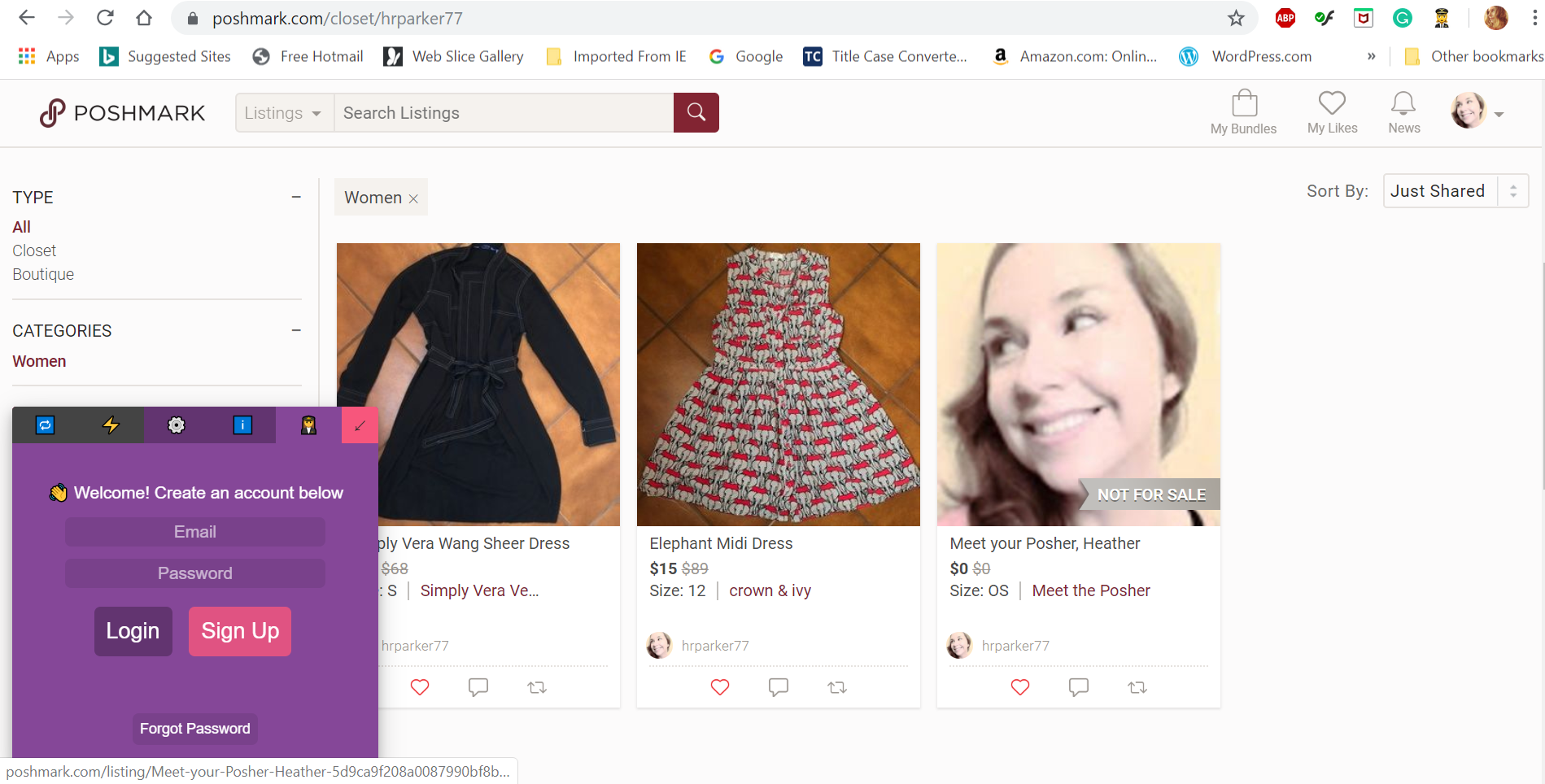 For free, you have 100 shares a day, shares to followers and parties, continuous sharing, and the ability to set delay times for more human-like automation.
I'm a big fan of this free tier made available by ClosetPilot. It won't work for everyone - if you have a large inventory (with 100+ items) and you want to share your closet multiple times per day, the free tier will only provide enough shares for a test run. But if you're newer to the Poshmark game and have 50 or fewer items in your inventory, then 100 shares per day is a really nice option to automate your closet sharing for free.
For Poshmark sellers with smaller inventories (and who don't desire to automatically share other users' items), the free option will help you maximize your profits since you won't be using your hard-earned Posh profits on the automation software subscription.
The free option even offers an alarm sound if you hit a ReCaptcha speed bump, another feature I have not seen with any other Poshmark bot. This way you can allow the bot to do your work in the background without being stopped by Captchas. The free package also includes frequent and free updates.
The paid option is $29.99 per month after a free seven-day trial. The paid option has everything the free package does, and also has auto-following, auto-unfollowing, and automatic Captcha solving. All of the sharing limits are also removed when you upgrade to the paid option, so you can share an unlimited number of times per day.
Installation
Downloading ClosetPilot is very simple and user-friendly, as it is a Chrome extension. You also don't have to put in credit card information to try it out, which a nice bonus. The Add To Chrome button on the landing page will download the extension. Another positive and something I haven't seen on another Posh bot is the option to chat with the software developer himself if you have any questions, which is really great if you are new to Poshmark bots or automation software in general.
Once you add the extension to your browser, you will see a little pilot emoji in the upper right-hand corner of your screen: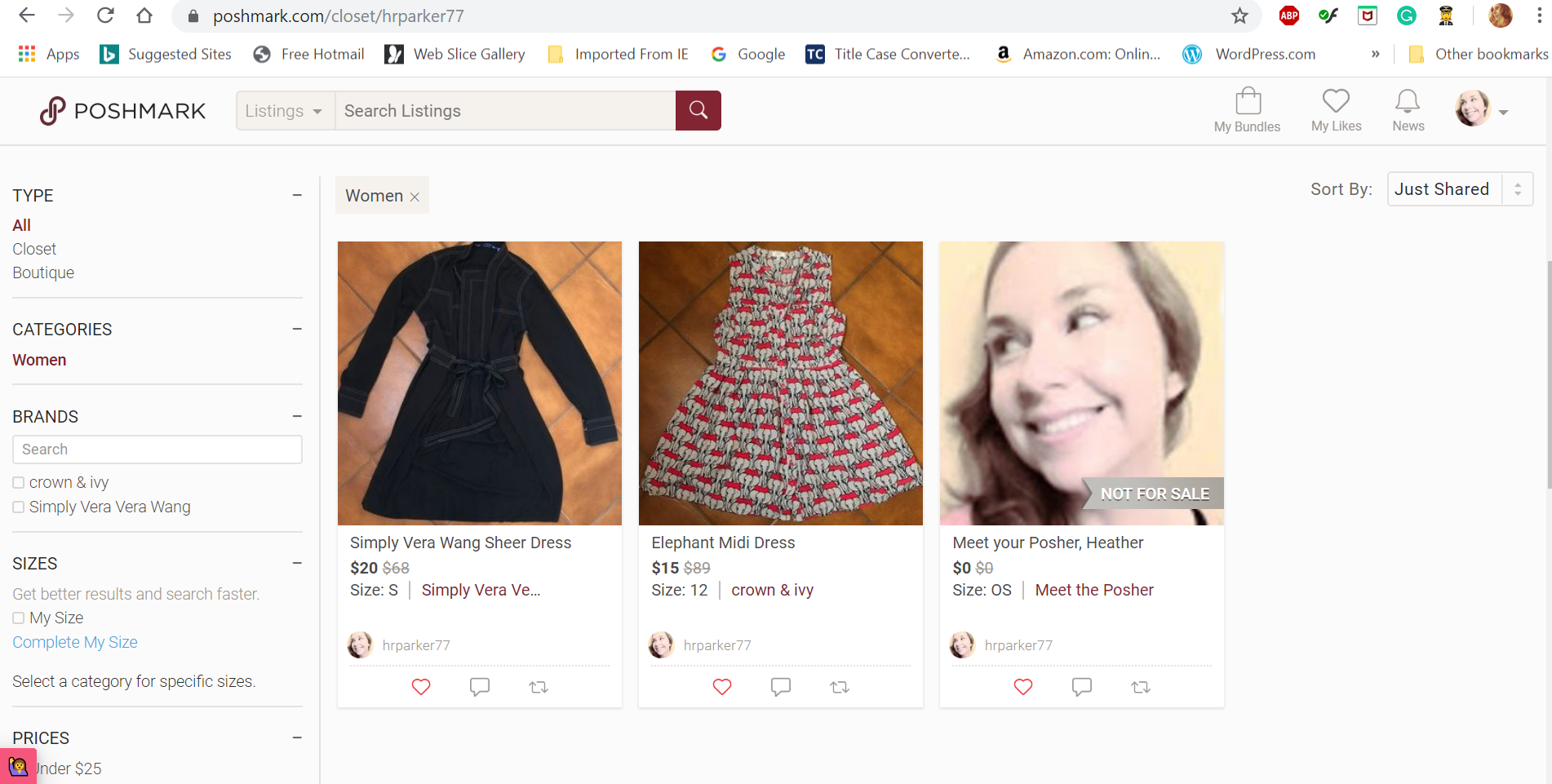 If you look closely in the upper right-hand corner you will see the pilot emoji, which is the ClosetPilot extension.
General Settings
To begin using ClosetPilot, navigate to your Closet. When you click on the extension, a tab will pop up in the lower left-hand corner: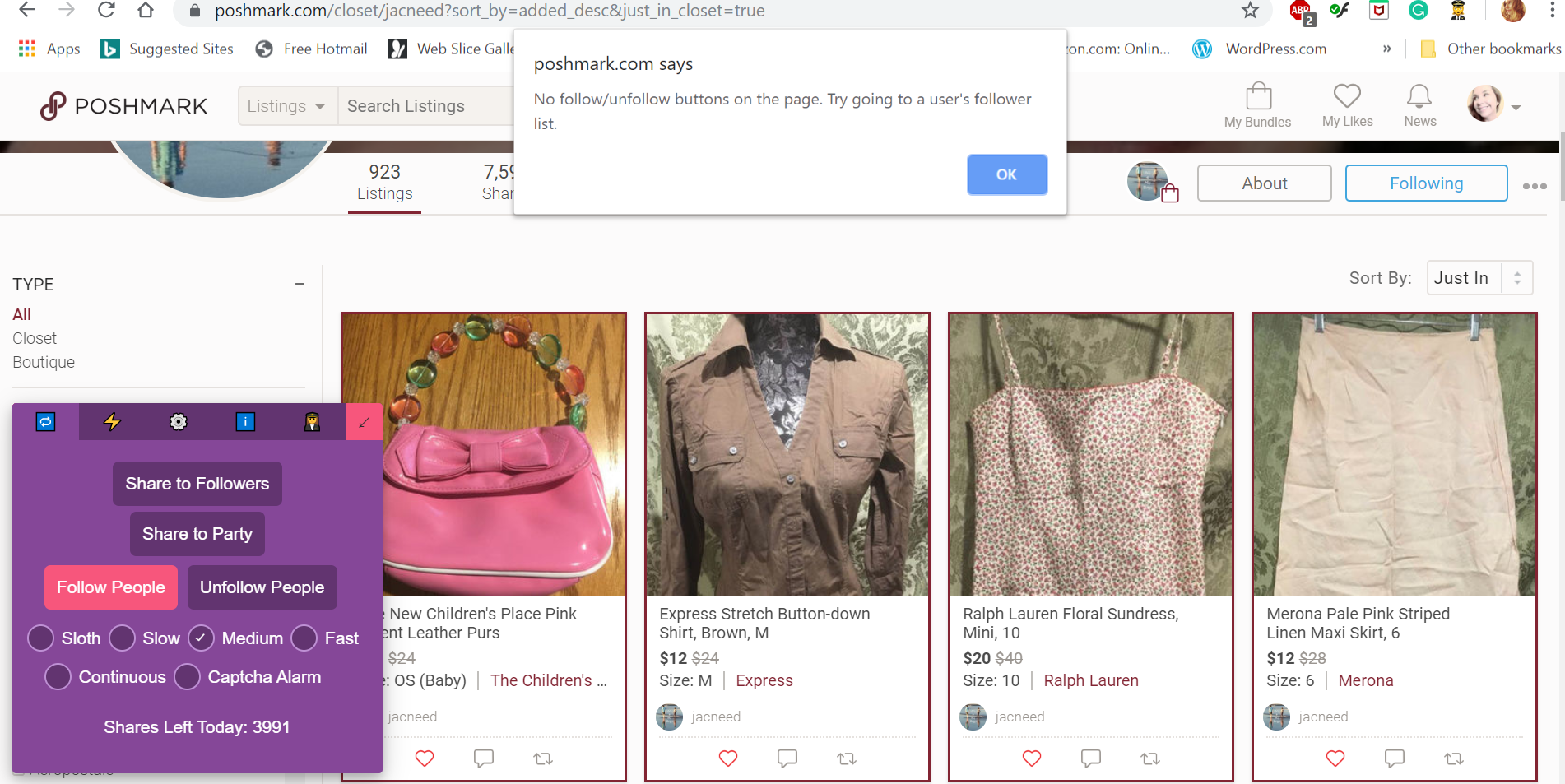 It's the tiny pink box with the little lady raising her hand. When you click on the box, this pops up: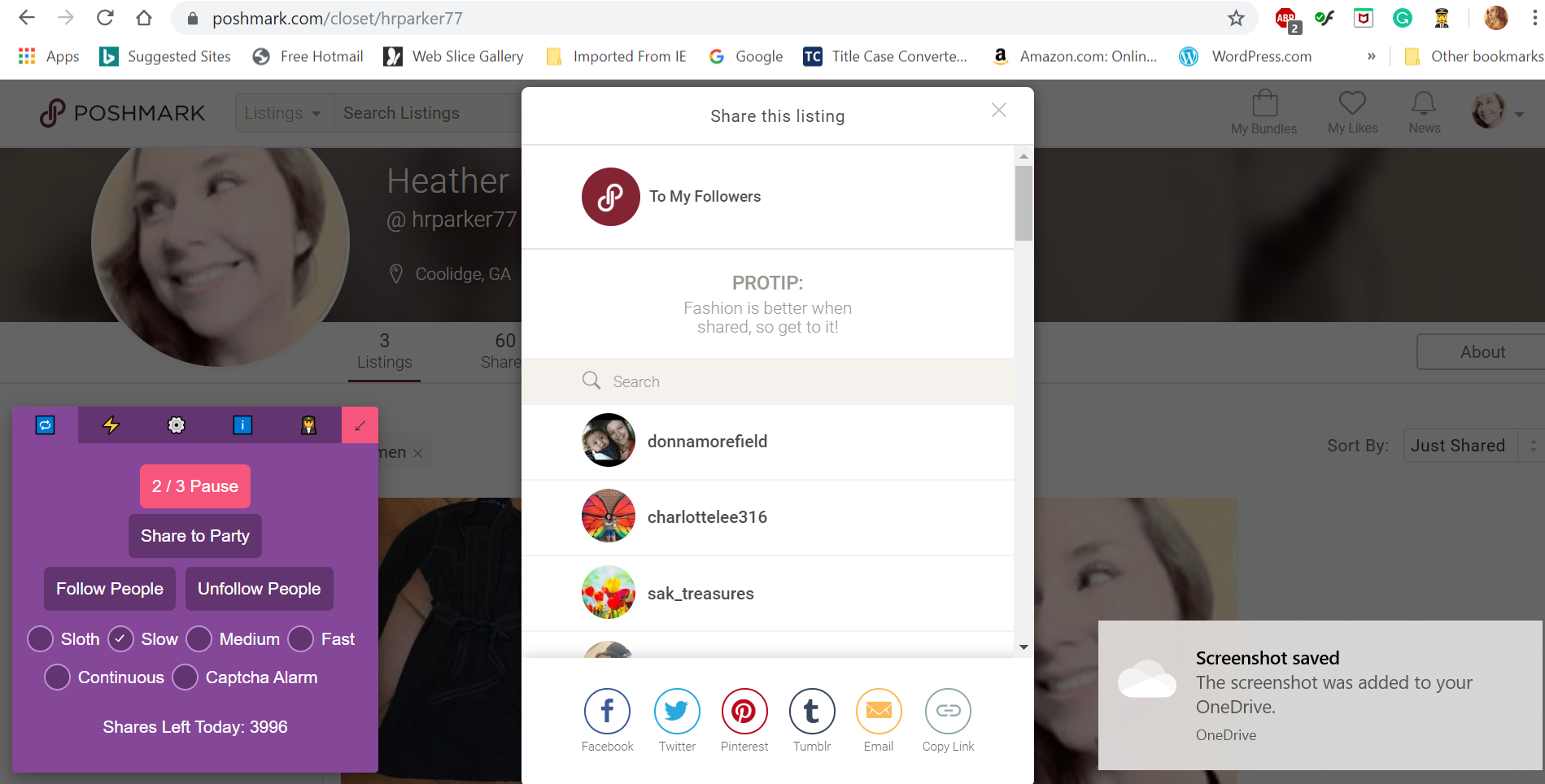 The pink box expands to a larger purple box to log in or sign up.
After signing up, the purple box is then your menu for the module. ClosetPilot uses icons to denote different functions.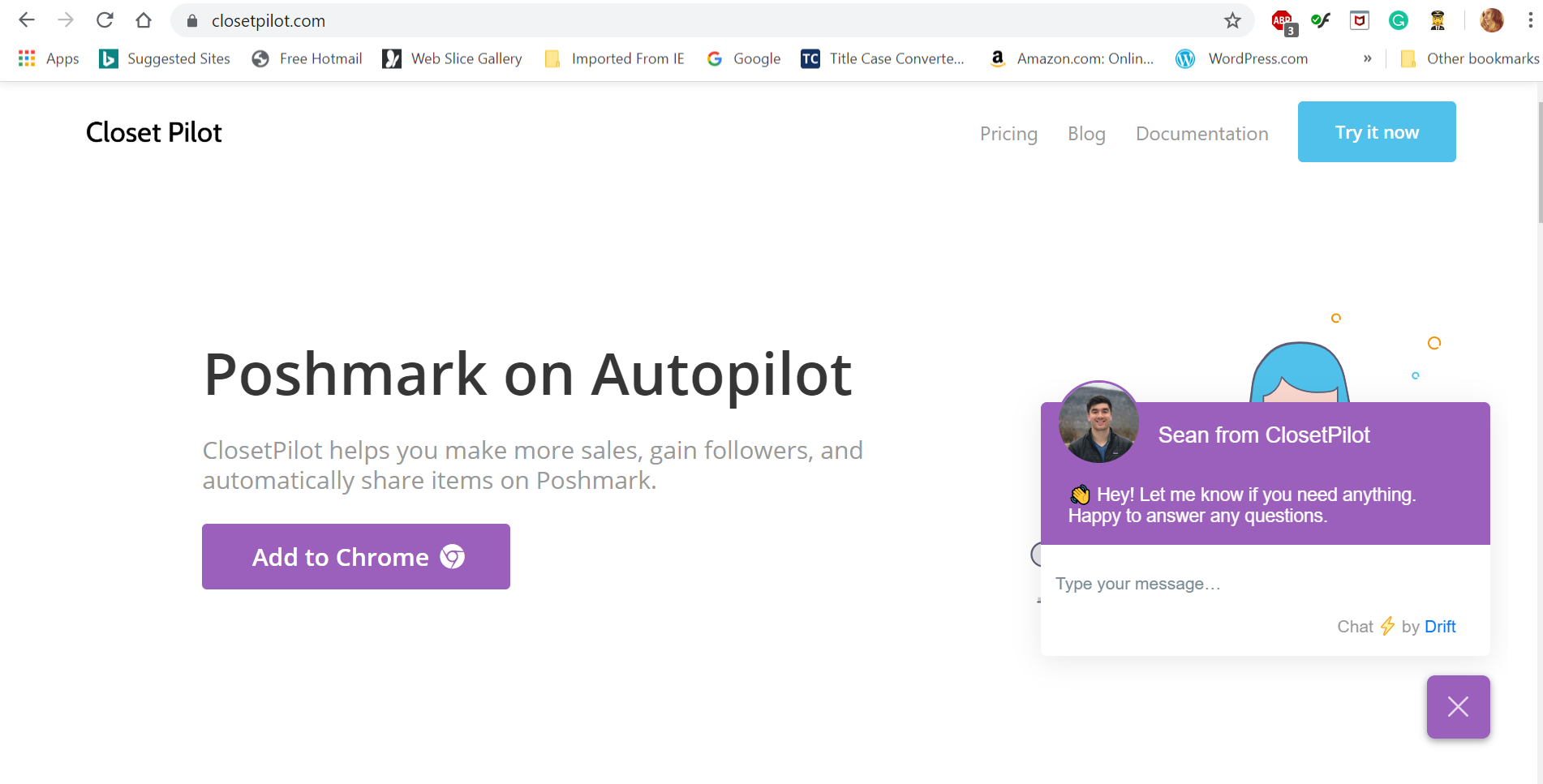 The different sections in the module are Repeating Actions, Single Actions, Settings, Information, and a minimize button (which is missing from some Posh bots so this is a much-needed feature).
Information
Although this isn't the first tab on the module, I felt it was important to start here as this is where the instruction manual is located. The Information tab is the blue box with the white "i" on it. When you click on it, a few options come up: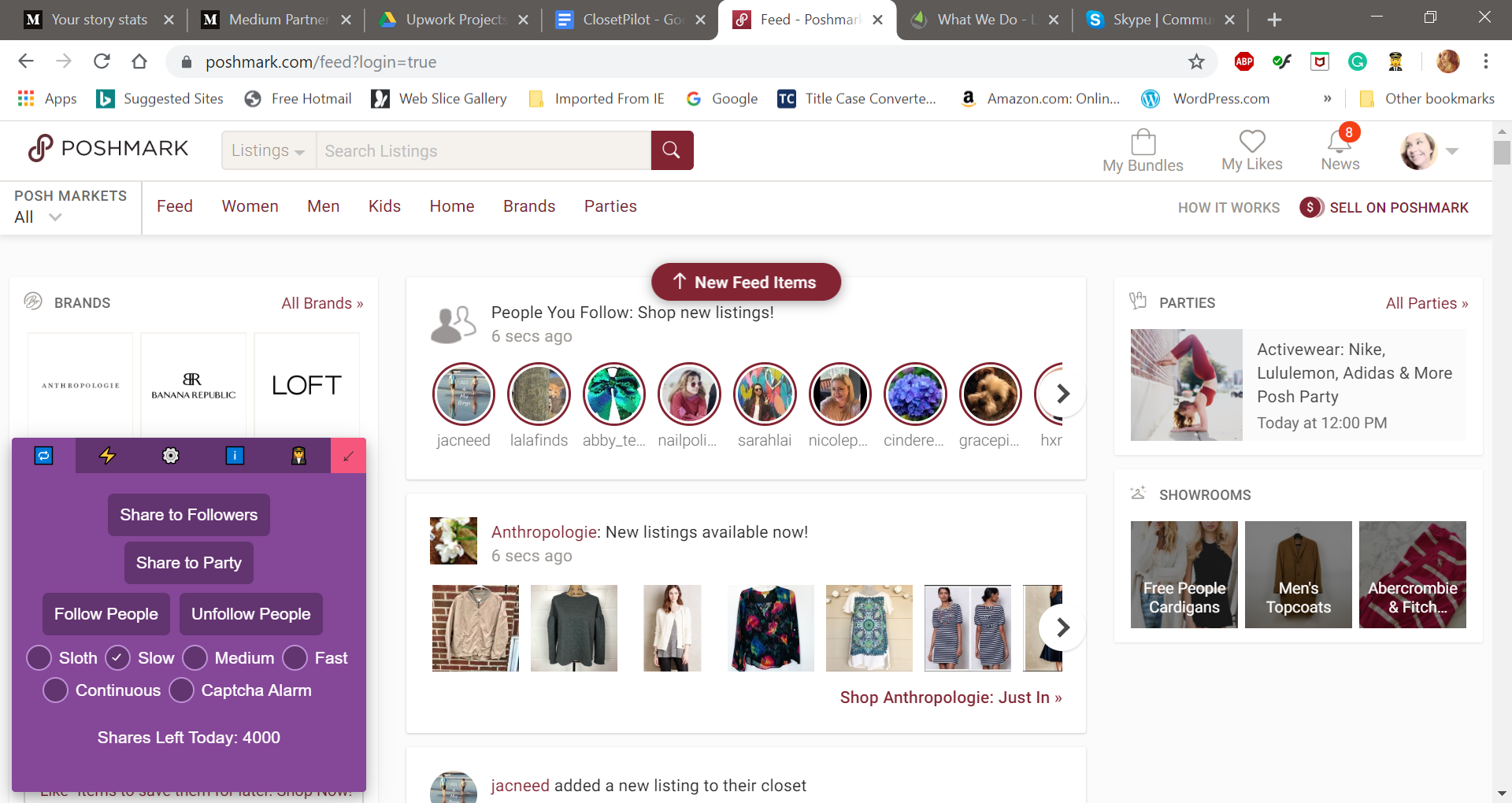 The About ClosetPilot section opens a new browser tab and takes you back to the homepage.
The Documentation and Troubleshooting tab pulls up the instruction manual with troubleshooting guides to help you as you go. I found the instructions thorough, easy to understand, and perfect for newbie Poshers. There is no complicated language or technical jargon to get bogged down in.
Finally, the link to ClosetPilot's support email is conveniently located here in case you need additional help or if you are experiencing difficulties that can't be resolved using the guide.
Repeating Actions
The first tab in the module is Repeating Actions, denoted by two arrows. The functions in this tab are:
Share to followers
Share to party
Follow people
Unfollow people
ClosetPilot, like other Poshmark bots, can set the speed of your shares, to spread it out throughout the day or delay shares for more human-like responses. You can choose from sloth, slow, medium, fast, or even continuous. I like the simplicity of the design here - you just click on the button for the speed you want and click Share.
Repeating Actions also has a Captcha Alarm you can turn on or off, which is helpful when you want ClosetPilot to run in the background on autopilot, so to speak, without worrying about being stopped by captchas. The bottom of the module also tells you how many shares you have left, determined by which package you have.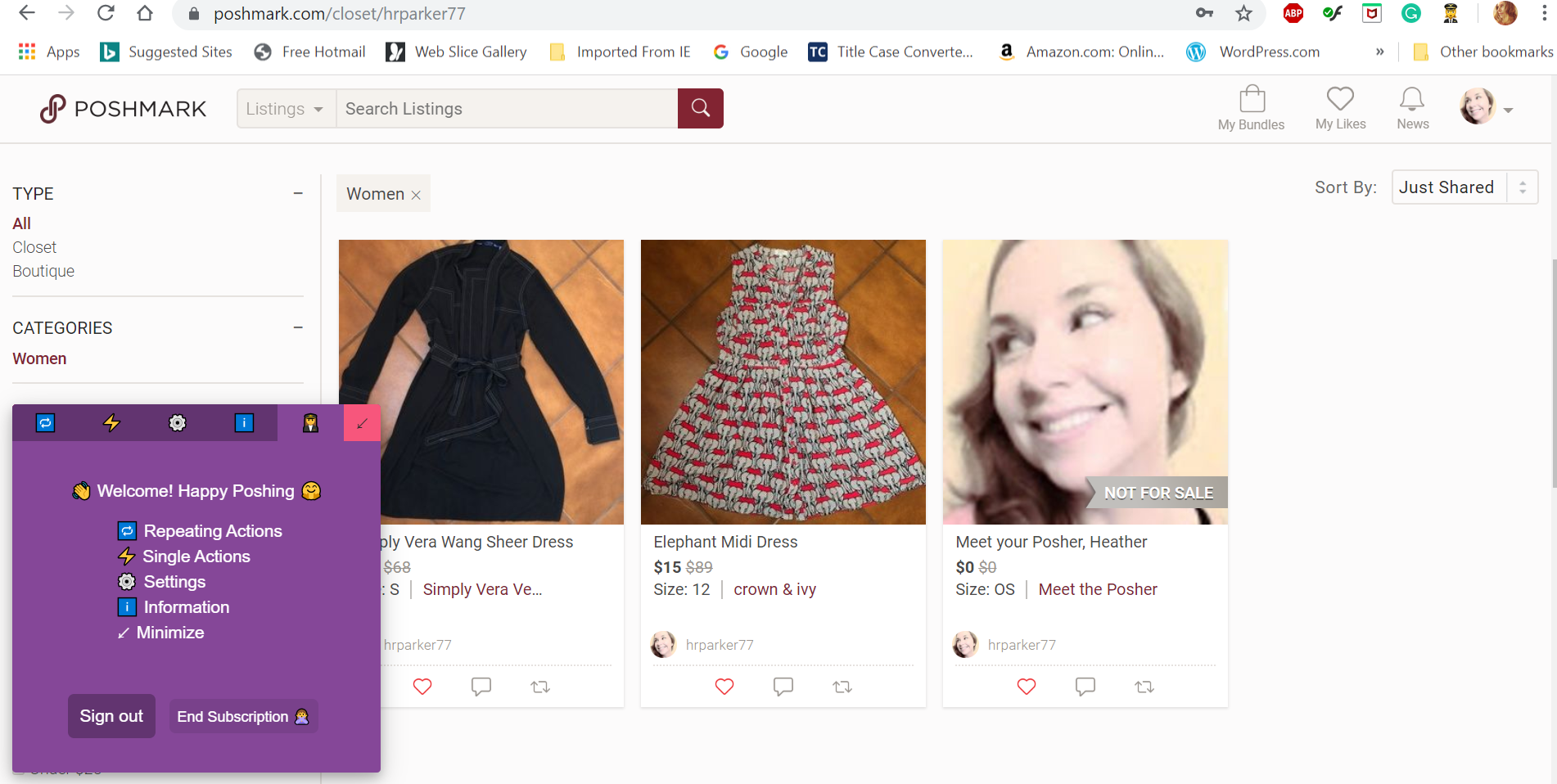 Share to Followers
Share to Followers is supported on your news feed, your closet, and other sellers' closets. I started by sharing my closet first.
To share to your followers, navigate to your closet and click on Share to Followers. Don't forget to set the speed time. The default speed is slow, so that is what I chose.
Sharing was so simple and very fast. After each listing is shared, you get a pop-up to let you know the shares were successful, so you are never left wondering. I also shared on sloth and medium speeds, and even sloth speed was quick and efficient.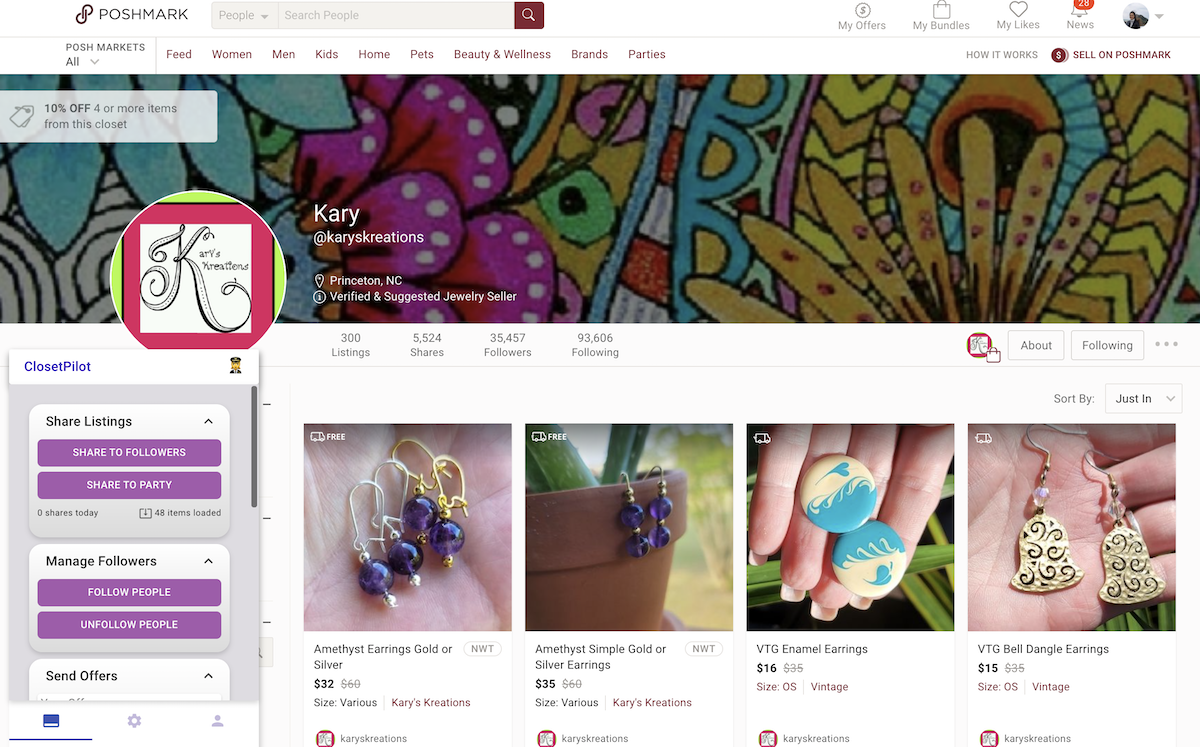 The tab also shows how many listings you have and how many have been shared (I shared three), and how many are left, as shown in the pink box. At the bottom of the module, you will see how many shares you have left. You can also pause sharing, which is another helpful feature. All of my shares were successful, done quickly, and included pop-ups to let me know they were successful.
Share to Party
The Share to Party feature works very similarly to sharing to followers. If there is an active Posh Party, it will automatically share items to the current party happening.
Follow People
The next feature in the Single Actions tab is Follow People. This feature needs to be activated on pages where following other users are available, such as in your feed, other users' closets, or the Find People feature.
I went to my news feed first to follow people. Scroll down as far as you can to load as many users as possible.
I followed on the slow setting. I knew it was working because the bot started scrolling up on the page by itself! Nice feature. After a couple of minutes, I went to my closet and had fifteen new users I was following.
If you go to a page that does not have a follow/unfollow option, you will get a pop-up that tells you to navigate to a different page, which is helpful.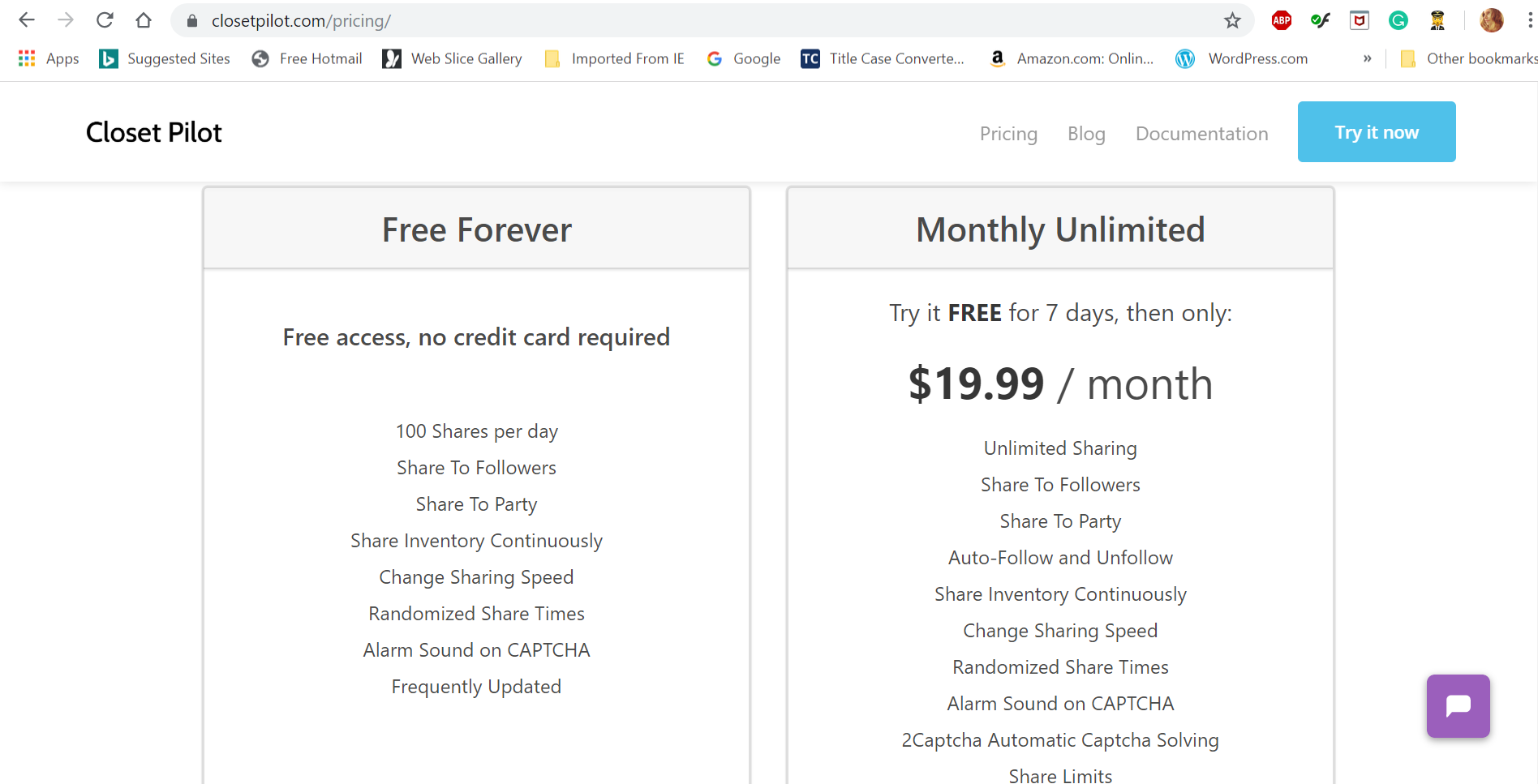 Next, I navigated to my closet and clicked on my list of followers. There were many that were new that I had not followed back yet, so this was a good chance to do it! When I began, I was following 160 users. After using the Follow People feature on medium speed, I had 317 users I was following in less than two minutes! The bot also scrolls down and you can literally watch as you start following people. Two thumbs up on this feature.
I then navigated to a user's closet and clicked on their following list. I clicked Follow People and watched it get to work! In less than thirty seconds I went from 165 followers to 317. The user's list of follows was almost 200K, so if I let it run long enough, I would have that same amount of followers! I decided to run the feature on full speed for a while to test its limits. I let the module run for five minutes on fast speed with the captcha alarm on and went from 394 followers to 858, so I nearly doubled my followers with no more effort than pushing a button once. I also never had any trouble with any captchas.
Unfollow People
Unfollow People works the same as Follow People, except in reverse. This is also a very simple action using the module. Go to your closet, click on who you are following, and then click Unfollow People. I only did a few as a test, as I didn't want to lose a lot of followers, but running it on fast speed with the captcha alarm I encountered no problems.
Single Actions
Single actions are actions you only want to perform once, without continuously repeating. It is on the module under the tab with the lightning bolt on it. These functions are:
Edit and share items
Auto-scroll page
Edit + Share
Based on the 30 Minute Method, Edit + Share will boost your listings with minimal effort. The idea of the 30MM is to boost your listings back to the top, but doing this by hand is very time-consuming, especially if you have a closet with hundreds of listings. By hand, you would have to open each listing to "edit" them (you don't even have to really edit anything), then save them to your closet. Then your items would be shared and bumped to the top of brand listings that your items were listed under.
To use the edit and share, navigate to your closet (this function only works here). Click on the lightning bolt, then click Edit + Share. I only have a few listings so it took just seconds, but doing this by hand, even with a few listings, would have taken longer. For Poshers with large closets, this is an amazing feature that will save you a lot of time.
Auto Scroll Page
This feature is helpful if you have a large closet with many listings. If you want to share from a large closet, you have to be sure all of your listings have loaded on the page or they all won't be shared. The Auto Scroll Page feature will do the scrolling for you, and ensure that all of your listings get shared, up to thousands of items. To use, navigate to your closet, click on the Single Actions tab, and click Auto Scroll Page. When I clicked on it, it immediately scrolled to the bottom of my page. This would be such a time-saver for huge closets for sure.
[Consider also reading this article with Poshmark selling tips for other methods on how to succeed as a reseller.]
Settings
The Settings tab allows you to customize your Poshmark seller experience. The functions are:
Available items only: This allows ClosetPilot to skip over your sold items and only share items that are up for sale.
Auto-scroll closets to load items: Discussed previously, auto-scroll ensures you load all of your closet items, no matter how many, and is faster than trying to scroll down to the bottom of your closet yourself. This bumps your items back to the top in brand listings.
Automatically solve captchas: This feature goes a step beyond the alarm by solving captchas for you. You will need to sign up for an account with a 3rd party service called 2Captcha. As of the date of this article, the rate is $3 per 1000 captchas solved. Once you pay you'll get an API key to plug into the module for automatic captcha solving, another great time-saver.
Daily Sharing Limit: This allows you to set how many shares you want to do in a day. It keeps track of how many shares you've made each day. This helpful so that you don't share too little or too much in a given day. If you share too little, you're missing out on the exposure and distribution you get from sharing. If you share too much, then you risk Poshmark putting your account in "share jail". ClosetPilot sets a default of 4000 shares per day, which is a reasonable number of shares that will likely not put you at risk of "share jail". If you want to share more than the default limit, you can remove the limit and share much as you'd like.
[Interested in reading more about how to succeed on Poshmark? Here's my article on Poshmark tips to grow your Reseller business from zero to $1,700/mo in 4 months]
Usability
This is one of the easiest and best performing Posh bots I've tried. It has a clean, simple interface, download and installation are easy, and it is quick to get started. Having tabs for different sections make it easy to navigate and is not overwhelming to Poshmark automation software newbies. The module stays up in the lower left-hand corner even when you navigate to a new page, and is still up even after you've logged out and signed back in. When you need to see your full screen, the module has a handy minimize button, a feature not included but very much needed in Posh bot software. The instructions are easy to understand, as is the software. Even newbies will feel comfortable using this software without feeling overwhelmed.
Functionality
All the features I used worked perfectly and delivered results as promised. I like how you can see the bot doing its job. Unlike other automation software I've used, which has hard-to-understand data scrolling by at the bottom of the screen, you will get pop-ups when items are shared successfully, and you can watch as the bot scrolls down the page to follow as many users as you'd like. Actually being able to see the functions being performed on your screen as if an invisible person is running the show, gives you peace of mind that the bot is doing its job as it should.
Compatibility
ClosetPilot is compatible with both Windows and Mac since it is a Google Chrome extension. The software cannot be used on a smartphone, however, as you have to use the desktop version of Chrome to download extensions.
Final Thoughts
Overall, this is the best Poshmark bot I have used to date. It is not too overloaded with features, like Poshmark Pro Tools, which is quite overwhelming, especially users new to Posh bots. I feel the number of features are perfect, they all run smoothly, and deliver on real results. You also can't get a better deal for the money. Just using the free package was plenty for me as a user with a small closet, but the paid package of only $29.99 a month is a bargain for the extra features.
If you want to read about the other options out there (that I don't recommend), I also wrote a Poshmark Pro Tools Review and a Simple Posher Review. I also recommend reading my full round-up of what you NEED to know about Poshmark Bots in 2020.