In recent years, Poshmark has become the world's largest online reselling venue. As it has grown, it has become harder and harder for the average seller to keep up with the constant demands of posting, following, liking, sharing, joining parties, etc. Poshmark can be demanding of your time if you want to be successful on the site. Even with the time spent, the investment isn't always what you've hoped for.
Enter Poshmark bots.
Bots are virtual "assistants" that help you automate those time-consuming tasks to help you spend less time liking and sharing but gain a higher sales rate. This article will discuss:
What you need to know about Poshmark Bots
Poshmark bots were created to help sellers not only free up time spent on time-consuming tasks, but also to help increase sales. Poshmark bots work in the background for you, so you can go about your busy day and make sales with little effort or time spent.
Most bots are extensions that can easily be downloaded to your browser, but do not work on mobile apps.
Most Poshmark bots have a monthly, quarterly, or yearly subscription fee, but most have a free trial period. This way, you can choose the best bot for your needs without wasting your money.
With Poshmark bots, you save time, increase sales, grow your closet and following, and might even turn your part-time hobby into a part- or full-time business.
The Poshmark Bot Controversy
Poshmark community guidelines ask that sellers do not use automated programs for liking, sharing, following, etc. According to their terms of service, they can ban you from the site; however, at most, you might receive a polite email to cease automation. However, Poshmark does not want to lose great sellers like you, so most accounts only get banned for harassment or scams, not bots.
If you've used Poshmark recently, especially if you were a seller in the early days of Poshmark, you'll notice quite a difference in how the site has grown. More users equals more sales, yes, but it also means more competition. Because Poshmark has grown so exponentially over the past couple of years, liking, sharing, following, and joining parties has become extremely time consuming. Since most Poshmark sellers work full time in other capacities, it can be difficult to spend hours sharing, liking, and following, in addition to staging great photos and writing product descriptions.
Because of this, a lot more sellers have turned to bots to help them save time and manage sales. If Poshmark banned all sellers who use bots, they would lose at least half of their seller base.
Use your bots ethically, and choose a great bot with human-like automation, and you will be increasing sales and your customer base in no time, without being banned.
How Poshmark Bots Have Evolved [2021 Update]
Poshmark constantly makes changes and updates to their platform, and this has led to changes in how Poshers use Poshmark bots as well. Offers to Likers, an older and more established feature launched in 2018, has grown to be an immensely popular tool for resellers to grow their sales in 2021.
A larger and larger cohort of sellers regularly use this feature to capture the attention of buyers, and as a result, it has become an essential component of the Poshmark seller toolkit to make more sales. Consequently, when evaluating Poshmark bots in 2021, it is important to consider bots that have all of the functionality you need to be competitive as a seller right now.
The Best Poshmark Bot in 2021
Updated March 28, 2021:
If you do a Google search for "best Poshmark bots", ClosetPilot will be the top result. And for good reason. The best value in Poshmark automation software, ClosetPilot is the only bot we tried that did not run into issues like other automated software packages.
ClosetPilot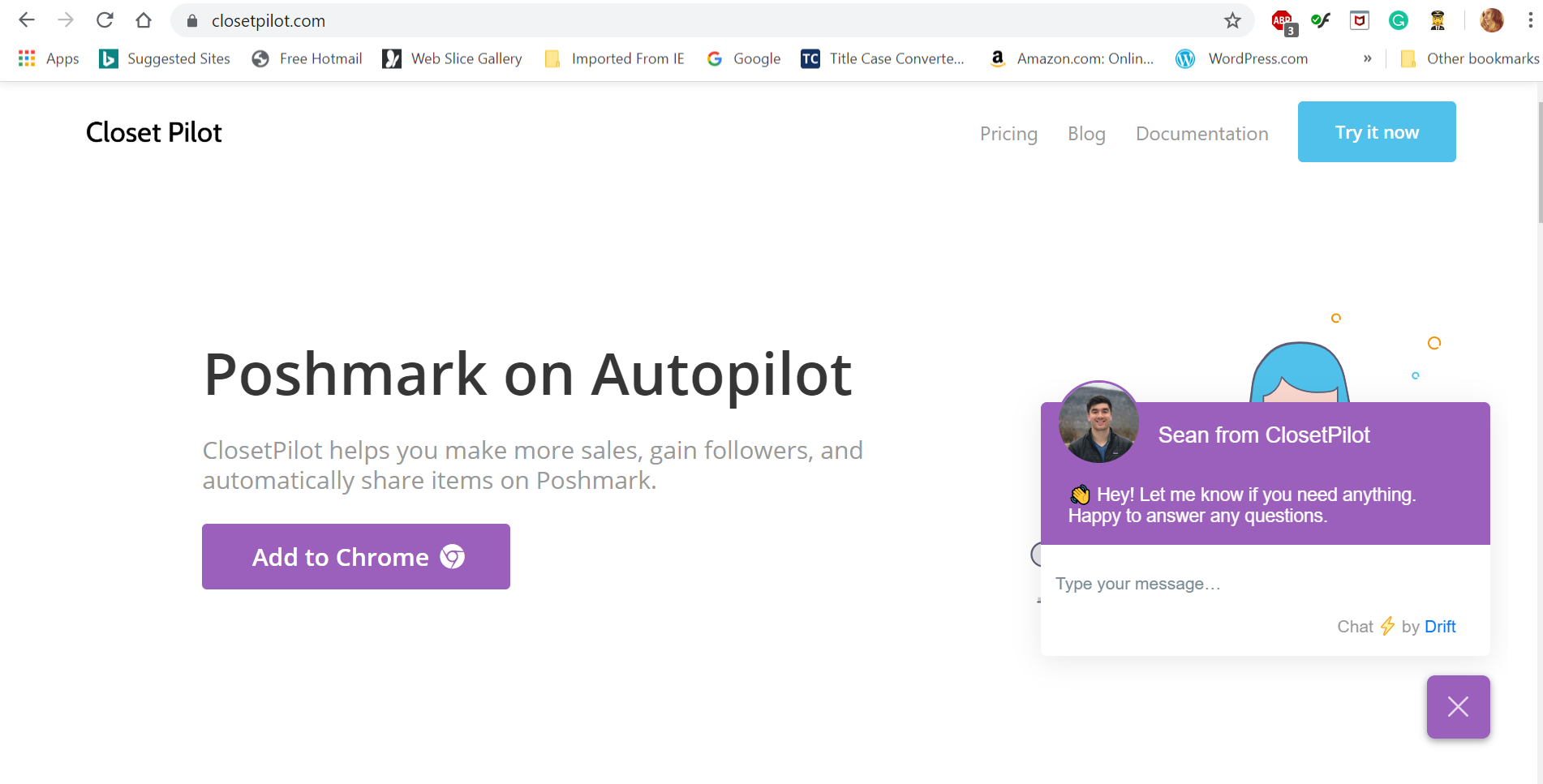 ClosetPilot offers features such as sharing to followers or parties, sharing from any closet or feed, following and unfollowing, editing and sharing, organizing your closet, sending offers to likers, solving captchas, and setting a daily share limit.
Out of all of the Poshmark bot options, ClosetPilot has the most generous free package, allowing Poshers to share for free forever with up to 100 shares per day. To unlock unlimited shares, it has variable pricing based on closet size, maxing out at $29.99 per month for an unlimited size active inventory.
If you choose to try unlimited shares, ClosetPilot offers a free trial. The free trial also does not require credit card information. All features functioned properly, with helpful pop-up windows to show you they worked. Like most automation software, ClosetPilot is a Chrome extension that works on all computers and operating systems. Instructions are easy to understand, and it is simple to download and begin using. The functions have various speeds and an automatic captcha solver that solves captchas for you even when you're away from your computer. Another great function is the software sets an optimal share limit of 4000 (which can be customized), so you aren't shadowbanned by Poshmark, and built-in delays help the actions seem more human-like. Because this is the only software we tested that had full-functioning features, we recommend ClosetPilot for Posh beginners and veterans alike.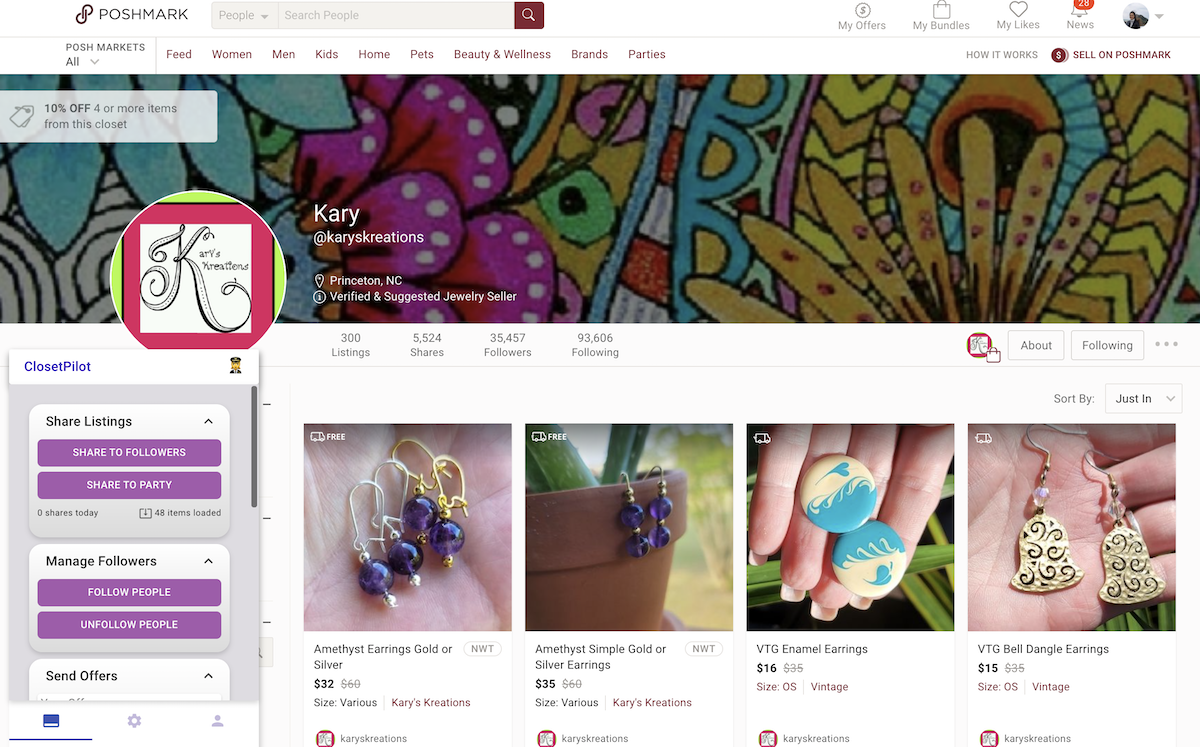 My full review of ClosetPilot is here.
SuperPosher
Perhaps the newest entrant into the fray is a product called SuperPosher. It is a little different from the alternatives because it is not a Chrome Extension. Rather, SuperPosher shares on your behalf from their computers.
While their model is certainly interesting (and tempting), there lie some inherent risks with this model. In the past, there have been Virtual Assistants who have offered similar services. They share your closet from their computers. These VAs often had hundreds of active closets as customers, and the VAs would share for all of them. The issue is, all to often, these Poshers would find their closets to be banned or disabled by Poshmark.
The problem with services that share your closet on your behalf is the sharing occurs on a computer with an IP address that is different from your home address. What this means is that Poshmark can tell that you aren't sharing yourself, but rather there is another service or person sharing for you.
For VAs or services that share on behalf of hundreds of clients, this increases your likelihood of being banned by Poshmark, because Poshmark sees one service running many many accounts.
I do believe that SuperPosher is promising, and I will keep an eye out on this product moving forward. However, in the near term, I would recommend staying away from SuperPosher until they build up a more solid reputation in the Poshmark community over time. I know one thing: I'm not risking my Poshmark income on an newer, potentially unsafe product until they pass the test of time and prove that you won't be banned by Poshmark for using their service.
In the meantime, I continue to recommend ClosetPilot as the best Poshmark bot in 2021. The product has been around much longer and has a reputable track record in the Posh community.
Closet Betty
Another relatively inexpensive Posh bot Chrome extension, Closet Betty also has a simple to use interface without being overwhelming with tons of features. Closet Betty is another workhorse in the stable of Poshmark automation software. Made by Poshers for Poshers, Closet Betty automates sharing and following to leave you more time for sourcing, sales, and marketing. Closet Betty advertises itself as a "one-click" automation software with human timing and Captcha detection.
Closet Betty's features include:
Shares and return shares to followers and parties
Follow and unfollow
Edit-Next-List
Scheduling functions, and
Captcha detection.
Closet Betty offers only one package at $29.99, along with a three day free trial (credit card required).
While the bot is easy to use, not all features deliver as promised. Share to Followers and Return My Follows did not work as they should have and Return My Follows did not seem to work at all, as the number of followers did not change. Update My Listings (Edit-Share), Share to Parties, and Return My Shares did work, but the number count for return shares did not work. The small number of functions combined with the non-working functions means this bot is definitely not one of the best.
Poshmark Pro Tools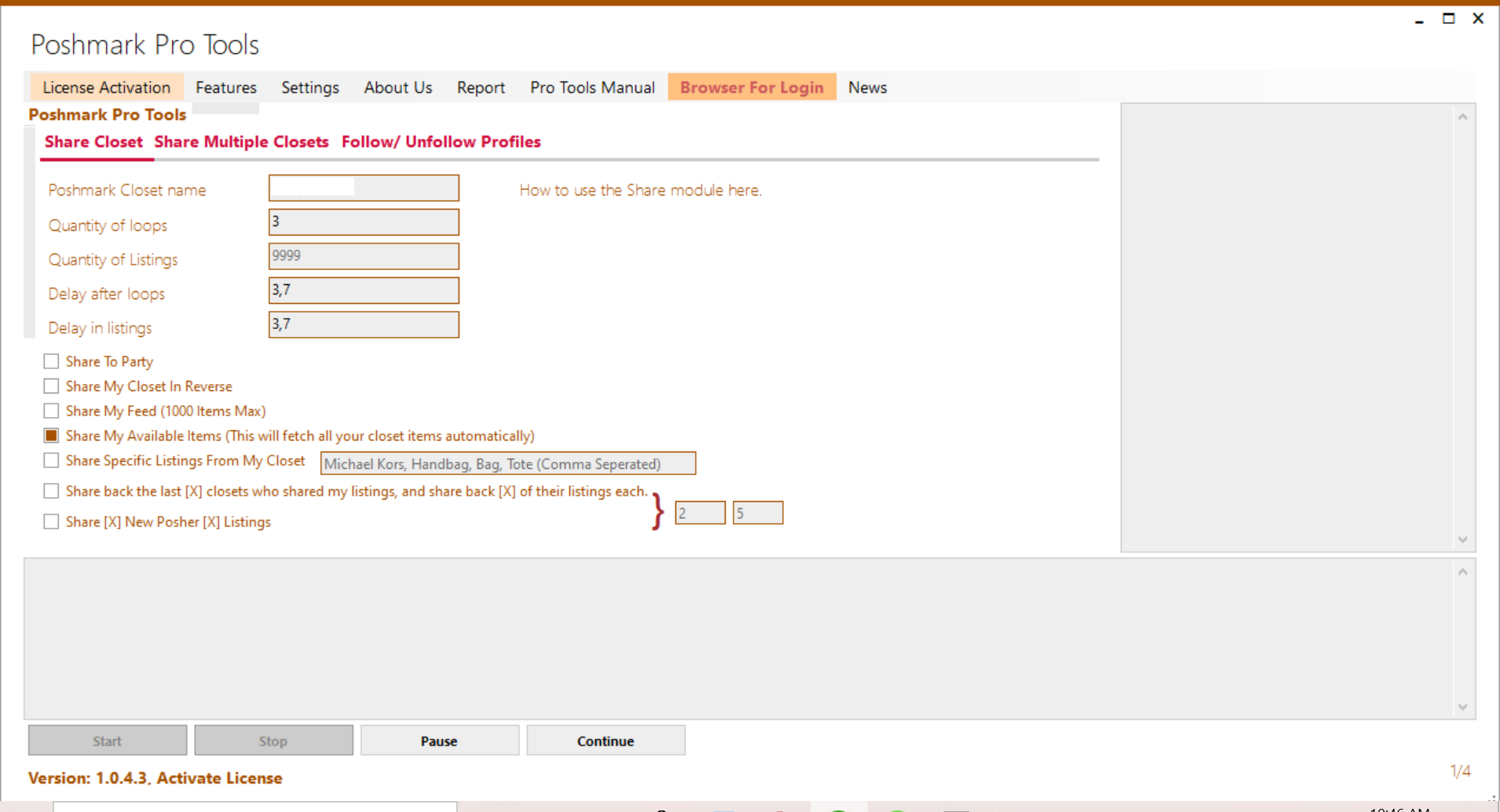 Poshmark Pro Tools offers the most packages of the bots tested, ranging from $14.99 a month to $99.99 a year. Pro Tools has all the best Poshmark bot features such as auto shares, follows, edit-shares, and the ability to backup your entire closet. But while Pro Tools has many features not included in other Posh bots, many of the features were too confusing to figure out due to the poorly written instructions, or they did not work at all, so your money and time are better spent elsewhere. The software itself could be especially overwhelming for Poshmark bot newbies, as this software requires a large learning curve. Another downside is Pro Tools is only available as a Windows application.
I also wrote up a full review of Pro Tools if you are looking for a more comprehensive picture of how it works.
Simple Posher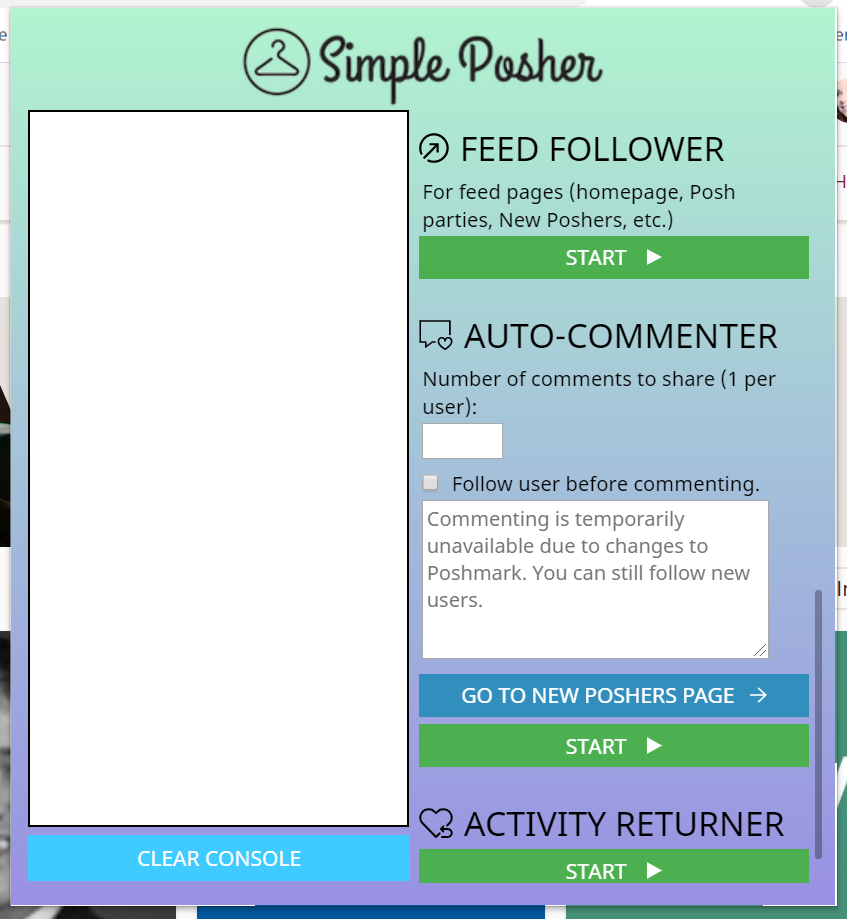 Simple Posher is a Google extension, making it compatible with all computers and operating systems, unlike Pro Tools. Features are simple, without being overwhelming. The Item Sharer feature was the only function that worked without incident. Simple Posher only offers one package at $9.99 a month with no free trial period. Despite the cost, ease of use and clean interface, most of the functions did not work at all or are blocked by Poshmark, making Simple Posher one of the worst bots we tried in terms of functionality and usability.
Our Recommended Poshmark Bot in 2021
Choosing Poshmark automation software can be a daunting task, with so many options on the market. However, most of the bots we reviewed did not deliver as promised, making ClosetPilot the only poshmark bot we recommend. With a free forever package, low monthly rates, and fully working features, ClosetPilot is the clear choice to help build your Poshmark business.