The Rating: 3.5 / 10
Simple Posher was a promising candidate for a useful Poshmark bot. It has rock bottom prices (the lowest out of any bot that I've used), and from the product page and screenshots it seemed to have powerful functionality. When testing the product however, most of the Simple Posher's features simply did not work as promised. The plugin had unpredictable long delays and pauses, did not share or follow other users as expected, and sometimes even claimed to be sharing successfully when it wasn't.
I don't recommend paying for Simple Posher, I don't believe it is worth the $10 per month. In many cases, it will do more harm than good. If you're looking for an alternative Poshmark bot, you can read the review of my current top pick, ClosetPilot.
If you want to read more about other options, I recommend reading my Poshmark bots guide to determine the best bot for you in 2020.
The Basics
Simple Posher is yet another tool in the Poshmark's seller's arsenal. Simple Posher is a Google Chrome extension (as opposed to desktop software that you download, like Poshmark Pro Tools). Simple Posher, like most automation software, promises to share your items and closet, follow other closets for you, and like, comment, and share other posts. The extension also has a ReCaptcha adapter.
Simple Posher has a free seven day trial period and costs $9.99 per month. This price is on the lower end of the spectrum given the options out there, which excited me. If the functionality of the Simpler Posher product held up, I thought this might be a viable tool to use regularly to share my closet.
The extension is available in the Google Chrome store. You can either select the "Try for Free" button or purchase it outright without the trial. The free trial does not require credit card information, which is a useful feature, since most Poshmark bots require a credit card to start a trial. Once you download it, the extension is immediately added to your Chrome browser.
Then you will need to return to the Simple Posher website to read the instructions on how the extension works in the How to Use & FAQ section.
Installation
Once the extension is added to your browser, you will see a small clothes hanger in the upper left-hand corner of your browser. It's the same symbol the brand uses on their website.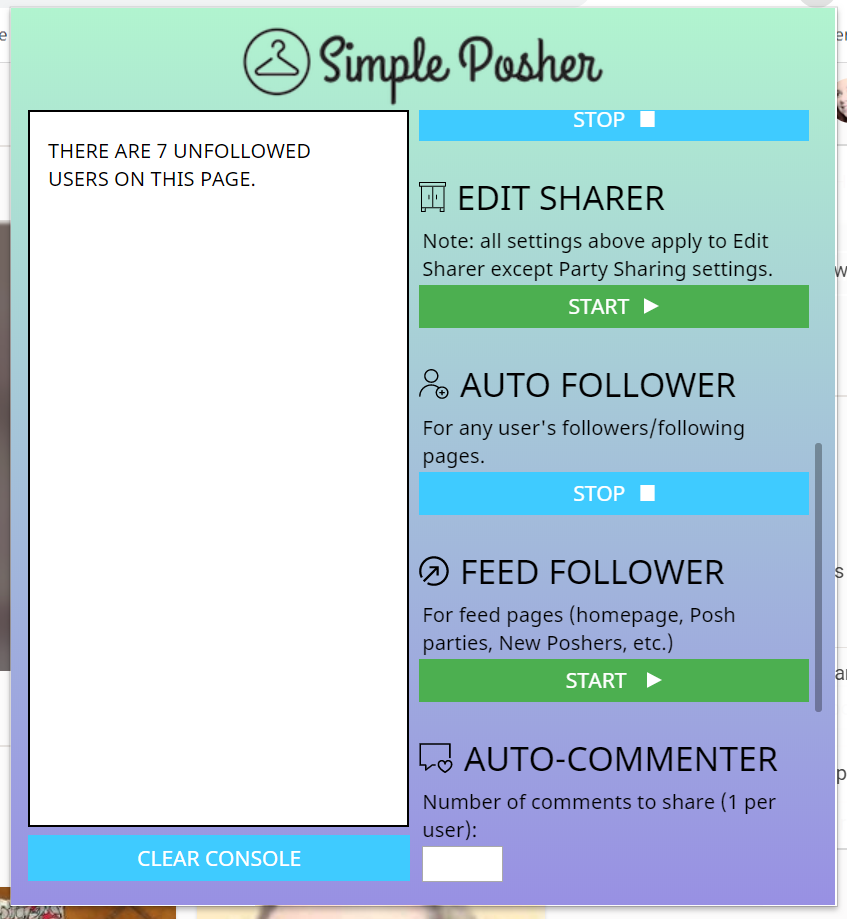 When you click on the extension, this box pops up: I'll be honest, this is clearly not the cleanest Poshmark bot design out there. But the functionality that the tool claimed to have looked promising, offering an Edit Sharer, Auto Follower, Feed Follower, Auto-Commenter etc.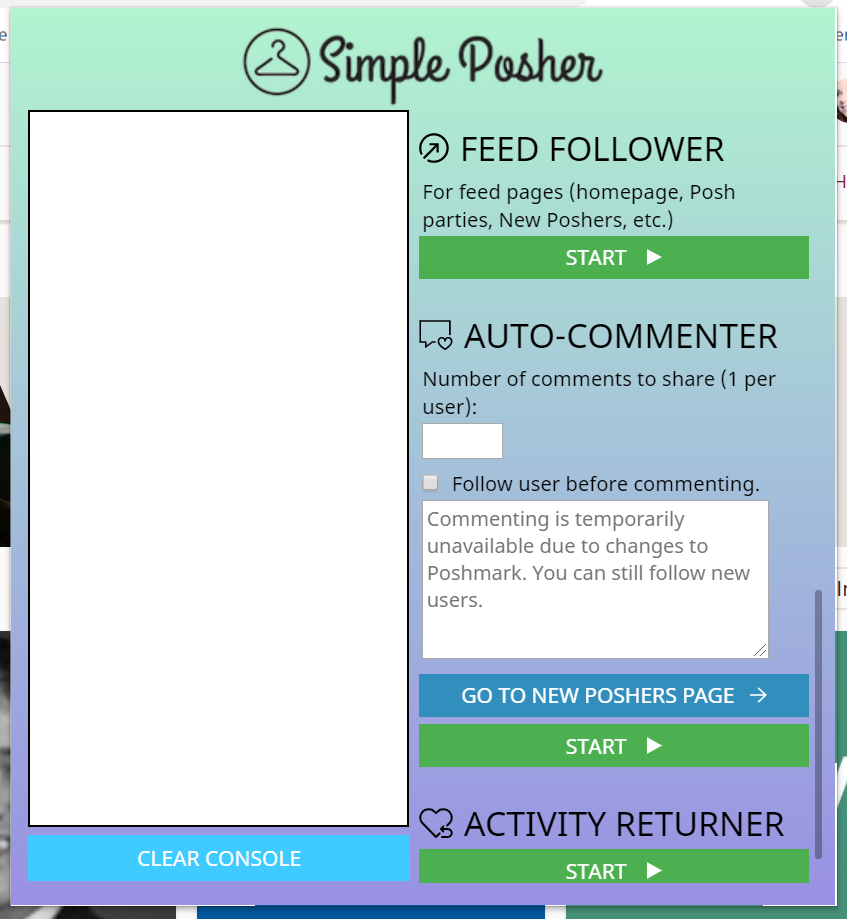 If you're using the app for the first time, it will prompt you to choose which Google account you want to associate with Simple Posher: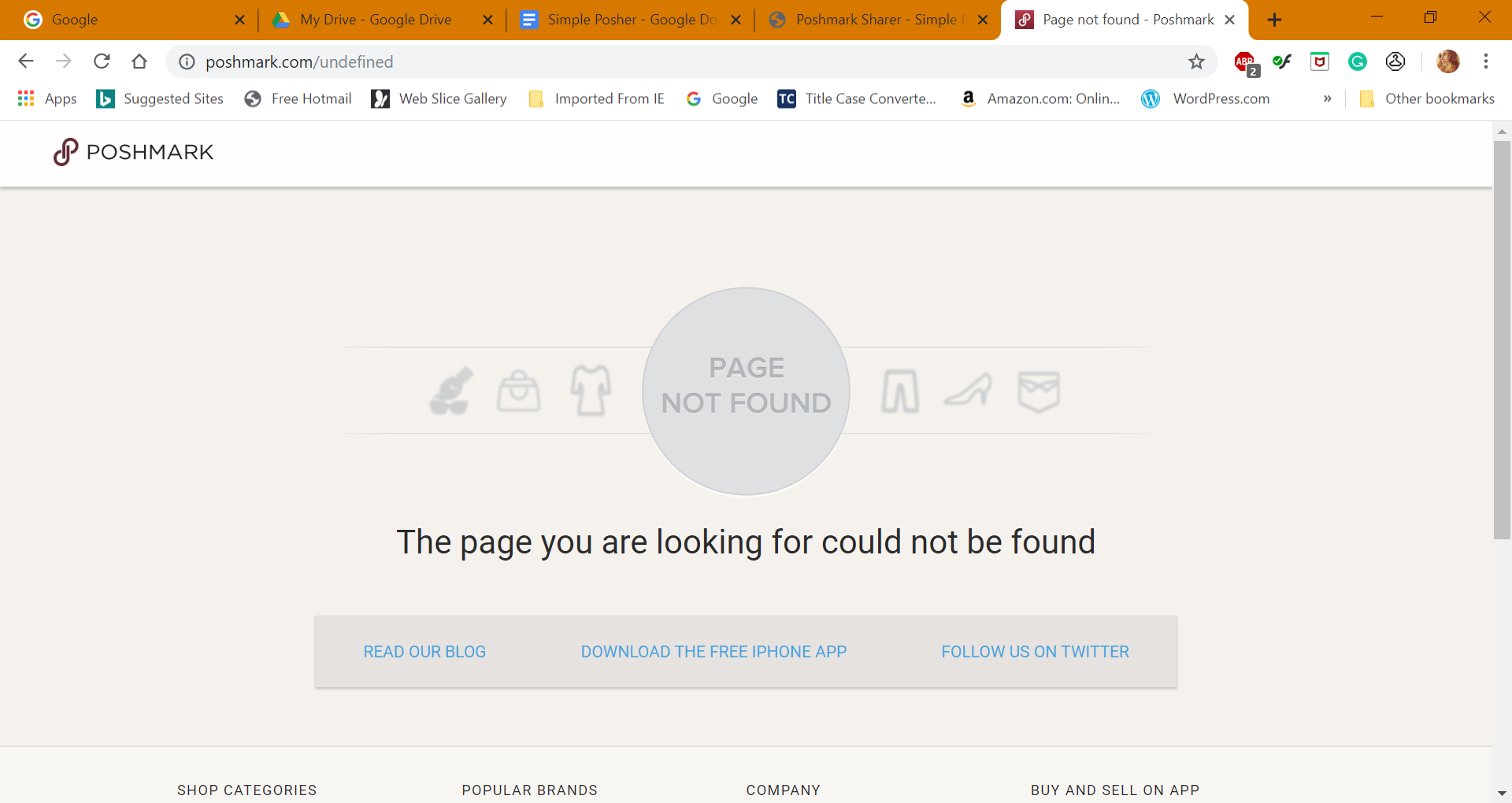 When you are using Simple Posher, you will need to pull up the appropriate page in your Poshmark account or the features may not work correctly. For instance, to share your closet, you must be on your closet page, or to share your feed, make sure you are on the feed page.
General Settings
The pop-up allows you to set the delay between shares to seem more human. You can enter as many items from your closet as you want, or it will default to share all your items. You can also share to parties using keywords, (it shows what party is in effect at that moment), reverse share, and randomize the order of items shared.
When you get everything set up, hit start. The console will show what is being shared and if it was successfully shared.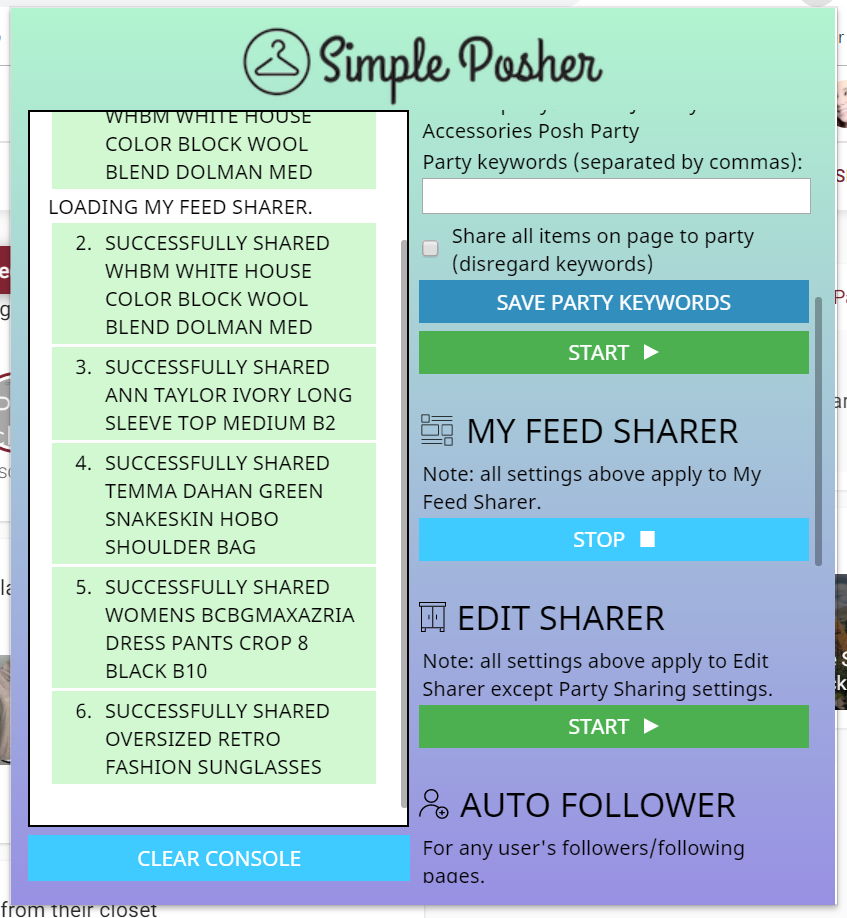 When it was through sharing, a "successfully shared" message popped up on my Poshmark page. However, the message popped up and left so quickly it is easy to miss, so that is a downside. The data does load into the console and sharing to parties was also successful. So the good news is this basic functionality was indeed working as expected.
My Feed Sharer
The My Feed Sharer works in the same way as the item sharer, but it shares whatever is on your feed page, meaning it shares items from other sellers' closets.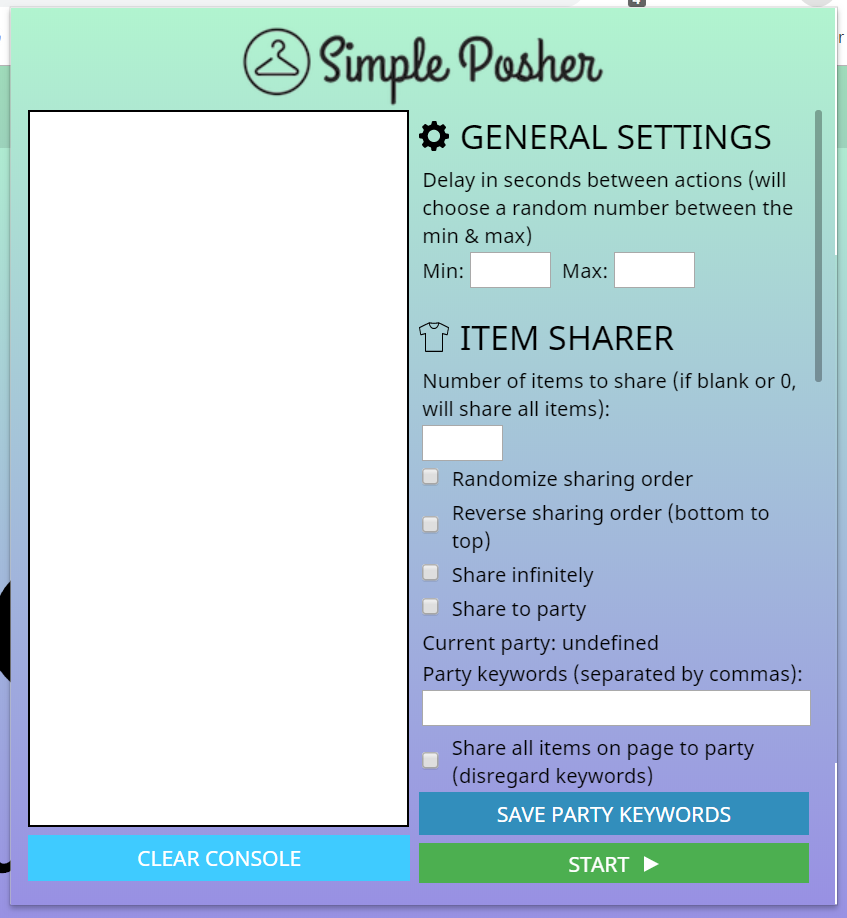 After about five minutes it had shared six items from other sellers' closets. This feature does take a while to work, so as you keep pulling it up it may show more shares. After checking back the next day, it had only shared eight items from other sellers' closets. This feature did not appear to work as expected. It ended up taking long gaps of time between shares even though I set 3 second delays in the settings. The Feed Sharer was mostly broken for me, and frustrating to use.
The Edit Sharer
The Edit Sharer edits items you want to share and don't want to share, skipping over sold items and Meet the Posher listings and loads all other listings. Settings already in place also apply to Edit Share. However, it is not recommended to apply infinite sharing to edit-share because Poshmark has a low threshold of edit-shares before your account is "frozen" for twenty-four hours (this only applies to edit-shares).
The Auto Follower
The Auto Follower can follow users from any user's followers or following page, as well as allowing you to follow back all of your followers. To start, go to the page where you would like to follow users. I started on my own page first.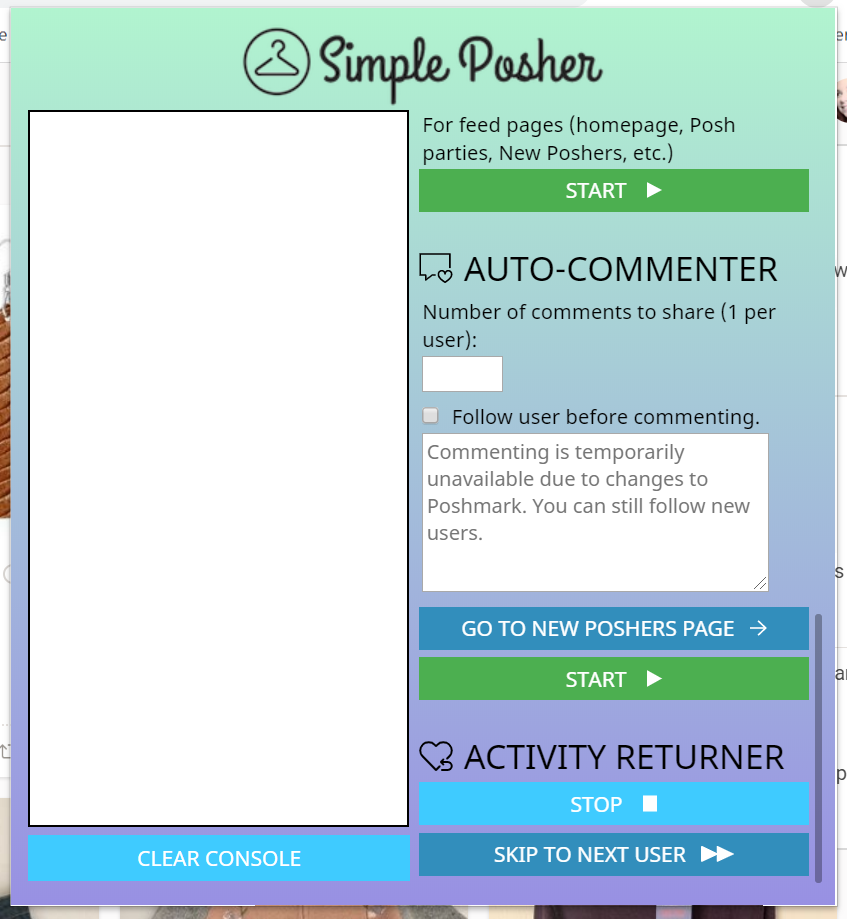 After running two cycles of Auto Follower, nothing seemed to happen. After refreshing my page a few times and waiting a few minutes, no new followers were added to my follower count.
Next, I went to one of my follower's closets who has 12,000 followers. I have 142 followers, but when I started the Auto Follower for this seller with 12K followers, the bot claims there are only 97 unfollowed accounts in this closet. I'm not a math genius, but those numbers don't add up. Am I supposed to find these and follow these accounts manually? What's the point of the software if it doesn't auto-follow other Poshmark users?
I went to another seller I follow who had a whopping 172,000 followers and ran Auto Follower again. It still said there were only 97 unfollowed accounts on that page. Again, the math doesn't add up.
I received no extra followers after running the Auto Follower on different accounts and giving ample time to show results. There were none. The instructions here are few and far between, and no trouble-shooting FAQ section, so this feature does not deliver on its claims.
The Feed Follower
This feature is a backup for Auto Follower when it doesn't deliver. The Feed Follower is used from any feed page, such as Poshmark's homepage, party pages, or new posher pages. I chose my main feed page. When you navigate to the page you want to follow from, scroll down to load all the users on that page (it can only load 48 at a time). I scrolled down as much as I could (since it keeps reloading) and hit the start button. Immediately this pops up: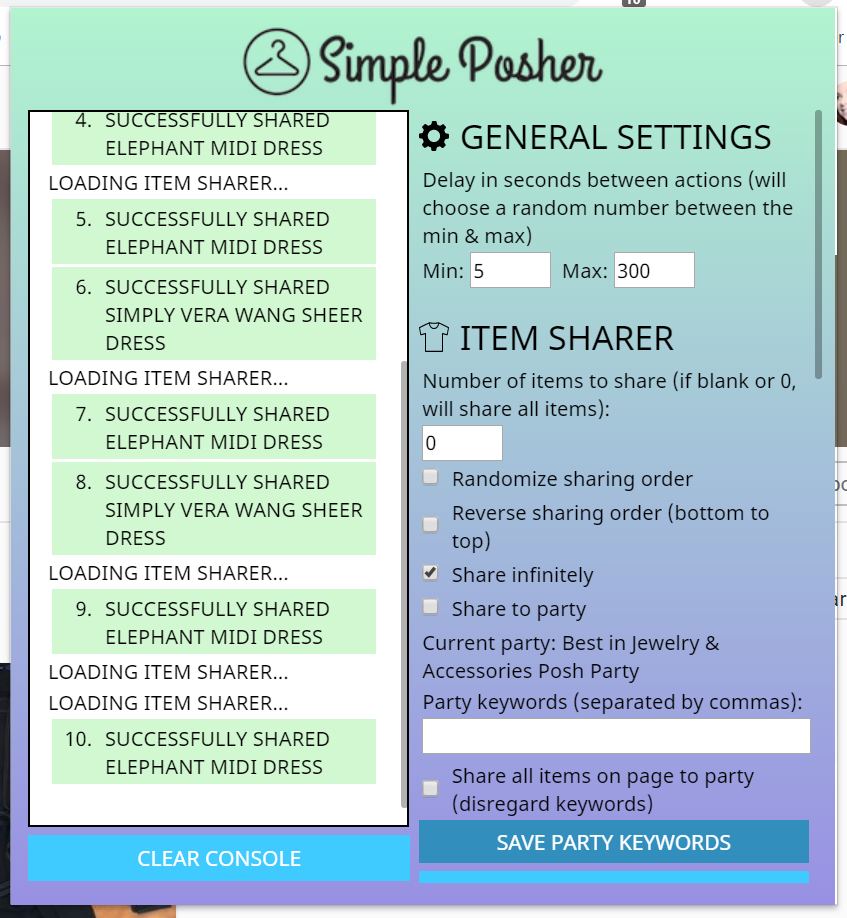 If you look at the box at the bottom, it says commenting is temporarily unavailable, but I can still follow new users. What does that mean? This feature also did not work, as my account did not show any new users I was following. It seems Poshmark has blocked this function.
Auto Commenter
This feature comments on other users' listings. Its intended use is to comment on new Poshers' "Meet the Posher" listings, but you can use it to comment on regular listings.
To comment on a new Posher's listing, you have to navigate to a new Posher's closet. There is a button in this section to find new Poshers.
If you look in the box under the Auto Commenter, it says this function is temporarily unavailable due to changes on Poshmark. And if you're having to navigate to the new Posher's page anyway, why not just paste in the comment yourself? This function, even if it did work, appears to be useless fluff.
News Feed Activity Returner
This feature returns shares and follows from other users. For each share from a user, the bot will share one listing from that user's closet, giving an additional share with each user's like.
To use, navigate to your news feed and scroll down to load all the activity on the page. After you click start, you have the option to skip to the next user.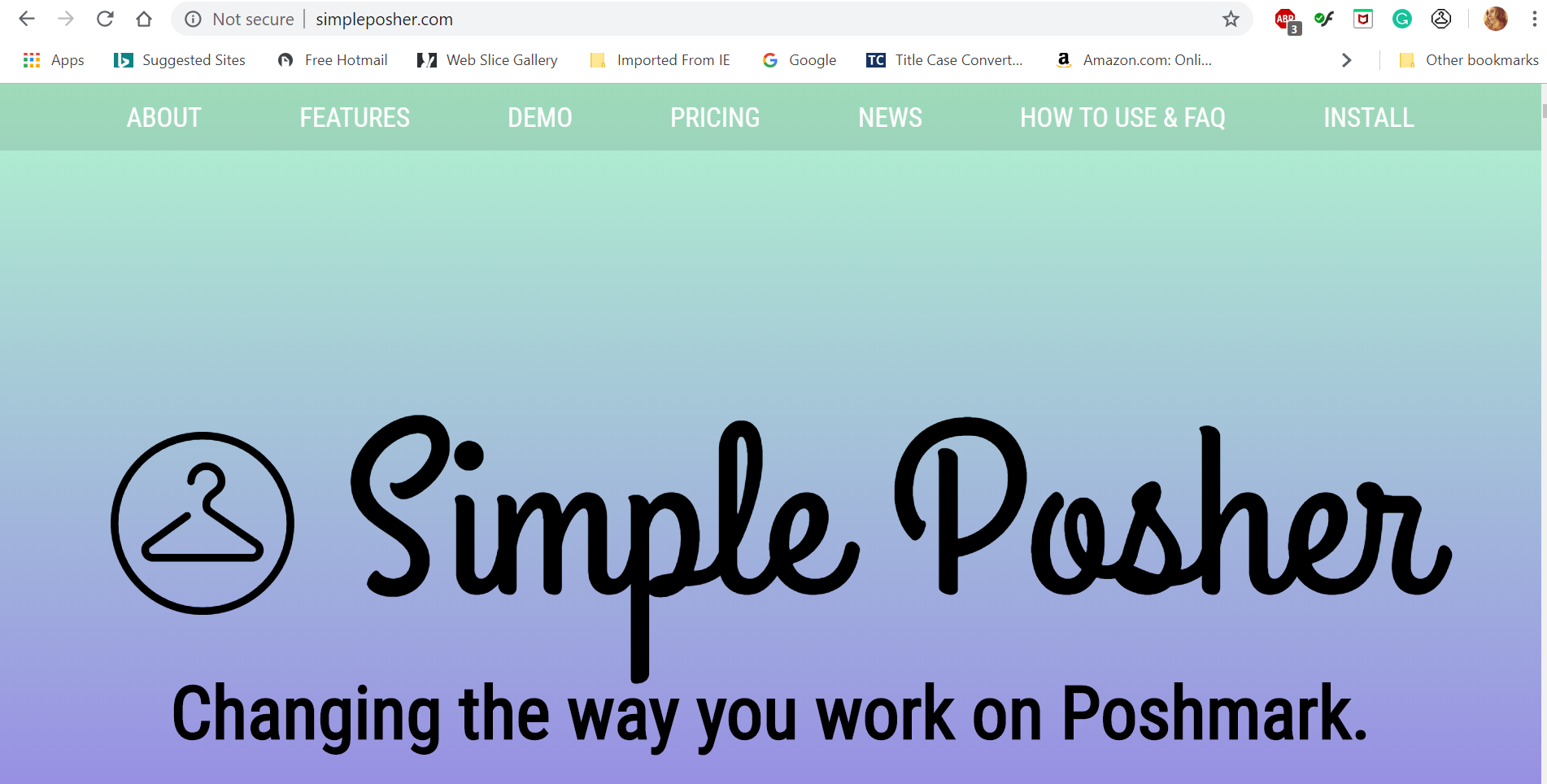 After using it a few times on my feed with no results, I ran it on my shares page. I did not see any activity here. The module will navigate to the first user's page, follow them, and return all their shares. However, if they haven't shared any of your items, the module won't share theirs, so this may be the case with my account. The instructions in this section are a little vague in my opinion, and the trouble-shooting information did not offer suggestions.
ReCaptcha
According to the instructions, sometimes functions will stop running if the ReCaptcha pops up. When it pops up you select the "I am not a robot" box and wait for it to disappear. However, this means you need to be monitoring your account fairly often to keep the module from stopping.
Usability
In terms of design, Simple Posher has middle-of-the-road usability. It has a decent looking UX, and it is simple to install. Since it is an extension, it is easier to learn and use than other software programs like Poshmark Pro Tools as well. It is easy to get started and the instructions are clear and easy to understand but could have used more detail and troubleshooting tips. The data in the console is also easy to understand, so you know what the module is doing. While the software does run in the background (you have to hit the stop button on all features to get it to stop, unless a ReCaptcha pops up), there is no minimize button. I found this to be a little frustrating, as you have to keep signing in if you leave it running for a few minutes. For a beginner, it is easy to learn and use, however, it does have issues with functionality. And in the end, the functionality is really the most important part of a Poshmark bot product.
[Do you want to know how I jump-started my Reseller business from zero to $1,700/mo in 4 months? Read my article with Poshmark tips showing exactly how I did it.]
Functionality
While Simple Posher offers eight different features in one extension, many features did not seem to work. The Item Sharer and sharing to parties worked, but notifications for these actions pop up on messages that disappear very quickly when you're running the module in the background. Also, after sharing overnight with share infinitely checked, I only have five more shares the next morning. There may have been a glitch here, but sharing infinitely you would expect more than five shares overnight with only a 300-second delay set.
The Feed Sharer worked but minimally, only sharing eight items from other users overnight. With so much in my feed, you would expect much more to be shared.
The Edit Sharer also does not run smoothly (and it's worth keeping in mind you should be careful with this feature in general, since Poshmark can freeze your account if you edit share too many listings, and no seller wants a 24-hour freeze from sharing or selling).
The Auto Follower was the biggest disappointment, as one of the main functions of Poshmark bots is to auto-follow users across the platform. After a couple of days, I still had no new followers even though I used this function many times. Even using the module on a user with over 170K followers, I did not receive any new followers, and I did not follow anyone new.
The Auto Commenter function is blocked for now, so this feature cannot be used at all. I feel that it is misleading to still offer this as a feature on the module since it can't be used, and it doesn't seem right that it is still factored into the cost of the program. I also could not get the News Activity Returner to work. I had it running overnight and still no data on the console to show that it returned any news activity. That is two functions in the extension that don't deliver as promised.
The module only works in the background IF your Poshmark page is open.
Compatibility
Since Simple Posher is a Google Chrome extension, it is compatible with both Windows and Mac. The software cannot be used on a smartphone, however, as you have to use the desktop version of Chrome to download extensions. This is an improvement over Poshmark Pro Tools, which is only compatible with Windows.
Final Thoughts
Overall, Simple Posher is easy to download and get started using and claims many features. The installation is quick and simple and easy for beginners. The module's interface is clean and uncomplicated, unlike other Poshmark automation software that can be overwhelming, especially for new users. However, despite its ease of use and many functions, over half of the features do not work, as some are blocked by Poshmark, and others simply did not deliver on its promises. Even after using a few days, and running the module consistently, I did not receive any new followers and only a few shares. ReCaptcha can also be a problem, as it can stop functions from running in the background if you are not always monitoring your account.
Overall, I don't feel that this software would be worth the money since most functions did not work, especially the most important, auto-following and auto-sharing. There are other software programs that will deliver the same functions, if not more, for less money and frustration.
After trying out multiple options and reviewing them all, I recommend ClosetPilot as the best Poshmark Bot out there.